ARTHUR DIIRCK, ENS, USN
From USNA Virtual Memorial Hall
Birthdate & Date of Loss
| | |
| --- | --- |
| Date of birth: | May 15, 1921 |
| Date of death: | August 10, 1943 |
| Age: | 22 |
Lucky Bag
From the 1943 Lucky Bag:
ARTHUR DIIRCK, JR.

Los Angeles, California

"Jug," a true Californian, valorously and vociferously defended his home port against all comers. The Dutch in him admitted a certain sedateness and the joy of pipe smoking as well as a temper that flared at "the injustice of it all." Coordinating hand and mind, he could turn out models and drawings with amazing speed and exacting neatness. "Let's do the job right," he said. He read, discussed and practiced photography ad infinitum. Cameras were neat "jobs" and photos, good "shots." Not athletically inclined, he worked out to dodge the various squads or scared up a game of badminton. Long interested in aviation, he has sprouted wings to his future.
He was a member of the LOG staff and also the Lucky Bag staff.
The Class of 1943 was graduated in June 1942 due to World War II. The entirety of 2nd class (junior) year was removed from the curriculum.
Loss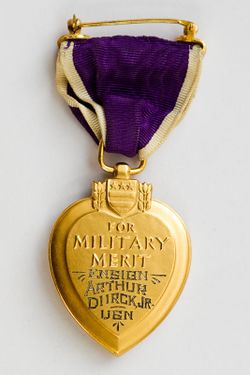 From Find A Grave:
Diirck graduated from the US Naval Academy (appointed out of the 14th California District) in June, 1942. In July, he was assigned to the USS VINCENNES on temporary aviation duty. On the night of August 8-9, 1942, the First Battle of Savo Island began when the VINCENNES was attacked by the Japanese 8th Fleet commanded by Vice Admiral Gunichi Mikawa.

The battle took place on August 8–9, 1942 and was the first major naval engagement of the Guadalcanal campaign; the first of several naval battles in the straits later named Ironbottom Sound, near the island of Guadalcanal. At approximately 0200 hours, Japanese search lights lit the VINCENNES up in the night and opened up a salvo of eight-inch armor-piercing shells that racked the VINCENNES. Soon the ship was struck with by torpedoes and was dead in the water. The captain ordered the crew to abandon ship and the VINCENNES soon rolled over and samk in 500 fathoms of water. The battle has often been cited as the worst defeat in the history of the United States Navy. Approximately 332 crew members were killed in the sinking; one of those was Arthur Diirck.

At the time of Arthur's death, his parents were living at 329 N. Westmoreland Avenue, Los Angeles, California.

Ensign Arthur Diirck, Jr., O-165430, earned the following badges/decorations for his service during World War II: - Purple Heart Medal - Combat Action Ribbon - American Defense Medal - Asiatic-Pacific Theater of Operations Campaign Medal with one bronze battle/campaign star - World War II Victory Medal
Other
His mother was the sponsor of USS Klondike (AD 22).