ELMER F. CRAIN, JR, ENS, USN
From USNA Virtual Memorial Hall
Birthdate & Date of Loss
| | |
| --- | --- |
| Date of birth: | February 13, 1921 |
| Date of death: | February 29, 1944 |
| Age: | 23 |
Lucky Bag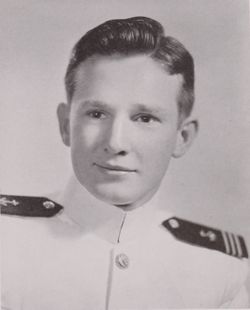 From the 1944 Lucky Bag:
Elmer Franklin Crain

Dallas, Texas

Everybody seemed to be Frank's "old and good buddy-buddy," to use his own expression. His genial Texas friendliness made him well known and well liked throughout the Regiment, to upperclass and underclass alike. From the Lone Star State, the pistol proved to be a "natural" for him, as he became one of the best shots in the Regiment. It's said you can shoot better when your heartbeat is feeble from a hangover. Because weekends were Frank's specialty, he had little or no trouble in winning his "N." With his engaging personality and driving stamina, he doesn't have to worry about getting along in the Navy.
The Class of 1944 was graduated in June 1943 due to World War II. The entirety of 2nd class (junior) year was removed from the curriculum.
Loss
Elmer was lost when USS Trout (SS 202) was sunk, probably by depth charge attack, on February 29, 1944.
Unable to determine when Elmer joined the boat, or what his billet was.
He is listed on the Courts of the Missing in Honolulu, Hawaii.
Related Articles
Bernard Barila, Jr. '44 was also on the rifle and pistol team.