FRED T. BERRY, LCDR, USN
From USNA Virtual Memorial Hall
Date of birth: November 23, 1887
Date of death: April 4, 1933
Age: 45
Lucky Bag
From the 1908 Lucky Bag:
Loss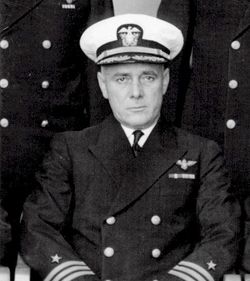 Fred was lost when the airship USS Akron (ZRS 4) crashed off the coast of New Jersey on April 4, 1933.
He was survived by his wife and son (who also graduated the Naval Academy). He is buried in the Naval Academy Cemetery.
Akron's executive officer, LCDR Herbert V. Wiley '15, one of only three survivors, was filmed shortly after the crash:
Biography
He was born 23 November 1887 in Logan, Iowa, was a member of the United States Naval Academy class of 1908. Through much of his early career he specialized in engineering duty, and during World War I commanded McCall (DD-28). He was awarded the Navy Cross for his outstanding performance of duty in this billet.

In 1927, he began training in dirigibles, and later commanded the airship Los Angeles (ZR-3).
From Hall of Valor:
The President of the United States of America takes pleasure in presenting the Navy Cross to Lieutenant Commander Fred Thomas Berry, United States Navy, for distinguished service in the line of his profession as Commanding Officer of the U.S.S. McCALL, engaged in the important, exacting, and hazardous duty of patrolling the waters infested by enemy submarines and mines, protecting vitally important convoys of troops and supplies through these waters, and in offensive and defensive action, vigorously and unremittingly prosecuted against all forms of enemy naval activity during World War I.

Service: Navy
Division: U.S.S. McCall

Namesake
USS FRED T. BERRY (DD 858) was named for him; the ship was sponsored by his widow.
Fred is one of 7 members of the Class of 1908 on Virtual Memorial Hall.