JACK B. RITTMAYER, MAJ, USAAF
From USNA Virtual Memorial Hall
Birthdate & Date of Loss
| | |
| --- | --- |
| Date of birth: | March 30, 1919 |
| Date of death: | January 7, 1945 |
| Age: | 25 |
Lucky Bag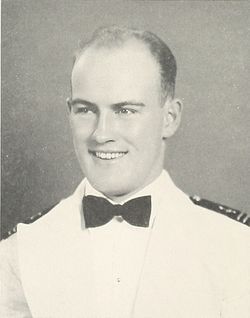 From the 1942 Lucky Bag:
JACK BALL RITTMAYER

Happy Jack

As result of a youth spent in the shadow of the Fleet at Long Beach, there was instilled in Jack a resolve to come to the Academy that could not be denied. After hard work and disappointments, his aim was realized. Here, troubles with the system were lightened by devotion to fine books and music, and above all by his ambition to fly. With his characteristic perseverance, we know this aim, too, will be achieved.

Soccer 4, 3, 2, aNAf, Battalion Swimming; Resigned
The Annual Register of the United States Naval Academy 1941-1942 lists Jack as resigning on February 4, 1941 because he was "Deficient in studies, first term's work. Recommended to be dropped. Permitted to resign."
The Class of 1942 graduated on December 19, 1941, less than two weeks after the United States entered World War II. The class had previously been scheduled to graduate in February 1942.
Loss
From Find A Grave:
Major Rittmayer (USAAF) had shot down four Japanese planes before he participated in the same sortie over the Philippines that Major Thomas McGuire was killed during. Rittmayer's P-38 Lightning was shot down immediately after McGuire's plane crashed, by Japanese pilot Technical Sergeant Mizunori Fukuda who was flying a Ki-84 Hayate "Frank".

According to Forest Lawn Major Rittmayer's remains are actually buried here, their records show his body was repatriated from the Philippines and buried on 13 July 1949.

General George C. Kenney gives an account of what happened in his book on Richard Bong, Dick Bong - America's Ace of Aces:

"Tommy (McGuire) assured me that he would be careful. He said that the next morning he and Major Rittmayer, a visiting P-38 pilot from the Thirteenth Air Force, who had four to his credit, were planning to take along a couple of youngsters who had just arrived in the squadron for a sweep over the Jap airdromes on the islands of Cebu and Negros to see if they could stir up something. We said goodnight."

"...Over Negros Island, they finally sighted a lone Jap fighter that had just lifted off the runway and was flying at about two hundred feet. McGuire led his fight to the attack (but neglected to jettison his wing fuel tanks, severely impacting the maneuverability of his P-38). The Nip turned sharply to the left and quickly maneuvered into position on Rittmayer's tail."

More recent (and detailed accounts) suggest that McGuire was trying to engage an aircraft flown by Warrant Officer Akira Sugimoto, while Rittmayer was shot down by Sergeant Fukuda.

McGuire pushed the envelope too hard in his attempt to engage the enemy fighter and stalled his P-38 at low altitude and crashed. After McGuire crashed, Lieutenant Douglas Thropp engaged W/O Sugimoto and damaged his plane enough to cause him to make a forced landing. The second fighter piloted by Fukuda subsequently attacked Rittmayer in a head-on attack and shot down his plane. Fukuda's plane was later severely damaged by Captain Edwin Weaver and crash landed but Fukuda survived the crash.

Rittmayer appeared in the 1940 census as a 3rd year midshipman at the US Naval Academy at Annapolis but he resigned on 4 February 1941 and Army service records indicate he enlisted as an aviation cadet at Fort Sam Houston in Texas on 19 April 1941. A photograph and a brief bio of him appear on page 206 of the 1942 Naval Academy "Lucky Bag Yearbook".

Rittmayer's marker reads "Beloved Son and Husband" but I have been unable to determine his wife's name or where she was from.
More details on Jack's final flight are here and here.
From Long Beach Independent on June 17, 1949:
Maj. Rittmayer, decorated by both the army and navy after bringing down a Japanese bomber and two fighters in one day over Subic Bay, was lost in a P-38 sweep over Negros Island in the Philippines, Jan. 7, 1945. He had served as liaison officer for the 13th and 5th Air Forces in Pacific campaigns from October of 1943. Born Mar. 29, 1919 in Meeker, Colo., he was graduated from Wilson High School in 1936 and entered U. S. Naval Academy in 1938. Maj. Rittmayer resigned from the academy in 1941 for servce as a flyer. Prior to his transfer to the south Pacific, Maj. Rittmayer served with the 54th Fighter Group in Alaska from June, 1942, to February, 1943, when he returned to Florida and later attended staff school in Washington, D. C. In addition to his mother, Mrs. Ethel B. Rittmayer of 2390 Cedar Ave., he is survived by his widow, Mrs. Bella Rittmayer Raiford, who returned from Germany to attend private memorial services on June 11.
This article had much the same information, but noted his grave was found November 6, 1947 and that his widow had remarried.
It appears Jack was a member of the 431st Fighter Squadron at the time of his loss.
Memorial Hall Error
Robert was a member of the Army Air Forces, not the Army (as is listed in Memorial Hall).