JOHN A. FLETCHER, III, LT, USN
From USNA Virtual Memorial Hall
Lucky Bag
From the 1948-B Lucky Bag: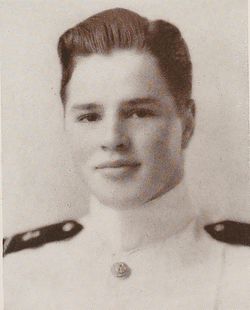 JOHN ASSERSON FLETCHER, II

WARREN, RHODE ISLAND

Navy Junior . . . unconventional type . . . with a dogmatic nature . . . the kind that never lost an argument ... no matter which side he was on. Started his varsity wrestling career early . . . plebe year . . . worked up to captain . . . twice intercollegiate champ . . . and won himself an outstanding wrestlers award to round things out. A good-natured . . . jovial . . . easy-to-like sort of an individual . . . believes in the democratic way of life . . . which led to many a disagreement with the system . . . you can't say he lost any arguments here ... he never argued with them ... it was futile. The bouncing gate of Muscles . . . and his belief that they don't dare fry me made John a constant member of the varsity extra-duty squad. Wrestling . . . ED . . . track ... an all-around athlete. A fast 880 man . . . could have been better . . . but his heart was in the loft . . . the lure of the loft kept him away from the cinder path ... a break for Navy's wrestling record. He loves the sea . . . mostly from the cockpit of a star ... or a knockabout ... a nautical wizard since his youth . . . John one day hoped to lead his lubberly wives to the Thompson Trophy . . . never quite made it. Likes to use his study time to read . . . anything that is recent . . . Time . . . Reader's Digest . . . novels . . . anything that's good.
John was the wrestling team captain for both 1947 (1948A) and 1948. He graduated from the 16th Company with the class of 1948-B in June 1948. (The top half of the class academically, designated 1948-A, graduated in June 1947 as the last wartime-accelerated class.)
Loss and Memorial Award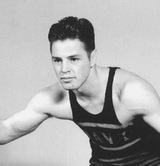 From Eastern Intercollegiate Wrestling Association Hall of Fame:
LT (jg) JOHN A. FLETCHER II, Navy '48 was the Midshipmen's Frank Merriwell; at Moses Brown School, Rhode Island, John was a 2-time state wrestling champion while captain, earning eleven varsity letters in soccer, track, wrestling and football, which he also captained. At the U.S. Naval Academy (1945-48), he placed second twice in the EIWA before claiming two titles and two Outstanding Wrestler Awards. Fletcher was allowed two entries to NCAAs and placed third, then second. In his last college appearance, John pinned four men before losing to never beaten Bill Koll, Northern Iowa, NCAA 1,1,1, Olympic 5.

John was an alternate on the 1948 and 1952 U.S. Olympic wrestling teams. He was inducted posthumously into the National Wrestling Hall of Fame, the United States Naval Academy Athletic Hall of Fame, and inaugural class of the Moses Brown Athletic Hall of Fame. Lt. Fletcher died in a plane crash while serving in the U.S. Navy in 1953. Beginning in 1955, the EIWA annually presents the John Fletcher Memorial Award, given to the senior wrestler who scores the most team points in the EIWA tournament during his career.
John was piloting a TBM Avenger on a "routine training flight" when the aircraft crashed in the Atlantic Ocean, approximately 110 miles east of Cape Henry.
Family
John's brother, Paul Fletcher '14, was killed in 1940. Their middle brother, William Fletcher, retired a rear admiral in 1960. The three brothers were sons and grandsons of admirals. From William's obituary: "A grandfather, Adm. Peter C. Asserson, had helped establish the Navy's civil engineer corps, and his father, Rear Adm. William B. Fletcher Sr., was an 1882 graduate of the U.S. Naval Academy at Annapolis and commanded U.S. Naval forces in Brest, France, during World War I."