JOHN A. FLETCHER, III, LT, USN
From USNA Virtual Memorial Hall
Date of birth: October 6, 1926
Date of death: September 29, 1953
Age: 26
Lucky Bag
From the 1948 Lucky Bag:
Loss and Memorial Award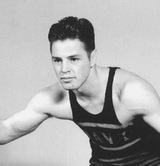 From Eastern Intercollegiate Wrestling Association Hall of Fame:
LT (jg) JOHN A. FLETCHER II, Navy '48 was the Midshipmen's Frank Merriwell; at Moses Brown School, Rhode Island, John was a 2-time state wrestling champion while captain, earning eleven varsity letters in soccer, track, wrestling and football, which he also captained. At the U.S. Naval Academy (1945-48), he placed second twice in the EIWA before claiming two titles and two Outstanding Wrestler Awards. Fletcher was allowed two entries to NCAAs and placed third, then second. In his last college appearance, John pinned four men before losing to never beaten Bill Koll, Northern Iowa, NCAA 1,1,1, Olympic 5.

John was an alternate on the 1948 and 1952 U.S. Olympic wrestling teams. He was inducted posthumously into the National Wrestling Hall of Fame, the United States Naval Academy Athletic Hall of Fame, and inaugural class of the Moses Brown Athletic Hall of Fame. Lt. Fletcher died in a plane crash while serving in the U.S. Navy in 1953. Beginning in 1955, the EIWA annually presents the John Fletcher Memorial Award, given to the senior wrestler who scores the most team points in the EIWA tournament during his career.
John was piloting a TBM Avenger on a "routine training flight" when the aircraft crashed in the Atlantic Ocean, approximately 110 miles east of Cape Henry.
Family
John III's father, Paul, was a Naval Academy graduate with the class of 1914. He died "while in active service" as a Commander in 1940; unable to find the nature of this loss. Paul's brothers—John III's uncles—were William B. Fletcher, Jr., '21 and John A. Fletcher '11, who was lost in 1923.
John III's grandfather, William B. Fletcher, Sr., was a 1882 graduate and commanded U.S. Naval forces in Brest, France, during World War I.