JOHN E. LUDWIG, III, CDR, USN
From USNA Virtual Memorial Hall
Lucky Bag
From the 1968 Lucky Bag:
Obituary
From The Evening Sun (Baltimore) on November 28, 1980:
A memorial service for John E. Ludwig 3rd, a test pilot for the Hughes Helicopters division of the Summa Corp., will be at 7 p.m. Dec. 5 at St Luke's Roman Catholic Church, 7517 North Point road. Mr. Ludwig, 34, was killed Nov, 22 when the helicopter he was testing for the Army and a plane photographing the test flight collided in flight.

A Baltimore native, Mr. Ludwig lived recently in Bonita, Calif., in the San Diego area. He was a 1964 graduate of Poly and a 1968 graduate of the Naval Academy. He was in the Navy from 1968 until 1979, serving as a test pilot and reaching the rank of lieutenant commander. During two tours of duty in Vietnam, he piloted rescue helicopters and was awarded several decorations.

Survivors include his wife, Linda; two sons, Jeffrey John Ludwig and James Christopher Ludwig of Bonita; two brothers, Gary Ludwig of Baltimore and Stephen Ludwig of Jacksonville, Fla.; his stepmother, Frances Ludwig of Seattle, and a stepbrother, Milton McNally of Seattle.
Remembrances
From an email:
Although the arc of Jack's life was shortened by tragedy, he filled his life with promise, devotion and dedication, always with a brave heart; as naval aviator, friend, husband and father. To know Jack is to know the creed of an Officer and a Gentleman, and knowing him is to live one's own life enriched and inspired by the deeds of a young man in service to his country and the love of his family. Jack treasured his Irish heritage, gifting him with the wile of a great storyteller, accompanied by the joyful mirth of a captivating spirit. And, he was all American—an unabashed patriot and proud naval officer, yet humble in expression. Knowing him was to learn more of oneself; garnering greater understanding for the awesome responsibility bestowed on those of us fortunate enough to serve our great nation and its people, along with the loyalty and allegiance to one's shipmates. Jack personified the utmost in leadership, reflected daily by all who served with him, especially our great American BlueJackets—they revered him.

Jack died in service to our country. He gave his life testing an attack helicopter—soaring to the edges of the envelope, evaluating mission effectiveness, daring to ensure the safety of a prototype aircraft so that others might fly—in the chaos of combat if necessary—with confidence.

To know William "Jack " Ludwig is know the epitome of a life well-lived. To serve as he did is to know the importance of mission and teamwork; the essence of belonging to a cause bigger than oneself. To join on his wing is to know the joy of flight alongside the tremendous responsibility entrusted to those proudly wearing Wings of Gold. To know Jack Ludwig is a gift of understanding on becoming a better person and a better leader.

Godspeed Jack… Captain Michael Coumatos, USN (ret.)
Jack is featured in a long story by Captain Coumatos in the "Rotor Review" (of the Naval Helicopter Association), Summer 2014 edition.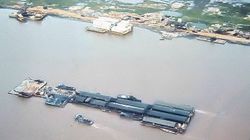 From Captain Gordon Peterson, USN (Ret.) via email on May 30, 2018:
In June 1970 I flew a memorable night mission with my '68 Naval Academy classmate Jack Ludwig at HAL-3 Det 1. This det was based way down near the tip of South Vietnam's Ca Mau peninsula at 'Seafloat' (later 'Solid Anchor' after the Navy moved ashore). By day the detachment's two helicopters and personnel would stage off the USS Jenkins County, an LST steaming close to the coastline. As dusk approached, we'd fly our two helos to a series of barges that were lashed together in the middle of the Cua Lon River (hence, Seafloat) near the old village of Nam Can. We'd stage on the barges overnight to fly night 'H&I' (harassment and interdiction) missions or to serve as a quick-reaction force for our Navy's mobile riverine force, SEALs, U.S. Army or ARVN units, or any other friendlies who needed the services of our UH-1B helo gunships.

I had arrived at Det 1 just a few days earlier, so I was still getting acquainted with our AOR (area of operational responsibility). Jack was the aircraft commander. He was a great stick. While on a night patrol--a dark-ass night at that--we received a radio call advising us that an ARVN base with its embedded US Army advisers was under attack and in danger of being overrun. Bad guys were right at the wire. Jack knew the AOR like the back of his hand. Within a matter of minutes we were overhead. 'Where do you want us to make or rocket runs and lay down door gun fire,' we asked?

Immediately, the advisers lit a large arrow made out of sheet metal that was filled with fuel oil or some other inflammable liquid. It flamed brightly and was plainly visible from the air. I can see it in my mind to the present day. Their instructions were simple: "Put in your strike as close to the tip of the arrow as possible. Hurry." The tip of the arrow, which could be swiveled on the ground, pointed to the direction of the VC's attack. We began our first rocket run from about 1,000 ft altitude, our normal SOP. On our first run, Jack put our rockets right on target. Our door gunners blasted away with a .50-cal in one aircraft and M-60 door guns, as well as bursts from our pod-mounted mini-guns. We kept laying it on until we were out of rockets and ammo. Our strike worked. It broke the back of the VC's attack.

Just another night in the life of a Seawolf pilot. Rest in peace, Jack. We remember you and all our classmates lost in combat and the operational line of duty over the years."
Other
Jack is mentioned in the book Howard's Whirlybirds: Howard Hughes' Amazing Pioneering Helicopter Exploits by Donald J. Porter.
Related Articles
David Thompson '68 was also in 18th Company.
John likely overlapped with at least one of the men who were lost in Helicopter Attack Squadron (Light) (HA(L)) 3. From an email from Captain Gordon Peterson, USN (ret.) on May 28, 2018:
Jack Ludwig served with the Seawolves of HAL-3 in the Republic of Vietnam from 7 December 1969 until 1 December 1970. During this period, he was assigned to Detachment 1 and Detachment 9. I served with him at Detachment 1 (Solid Anchor/Seafloat) from 15 June to 3 July before returning to my original assignment with Detachment 2 at Nha Be. My flight log book records flying five missions with Jack during our time together. He was a great stick.
Memorial Hall Error
John's loss was not operational in nature, and he was not on active duty.
John is one of 29 members of the Class of 1968 on Virtual Memorial Hall.