MERLIN N. PADDOCK, LCDR, USN
From USNA Virtual Memorial Hall
Birthdate & Date of Loss
| | |
| --- | --- |
| Date of birth: | March 15, 1917 |
| Date of death: | April 16, 1945 |
| Age: | 28 |
Lucky Bag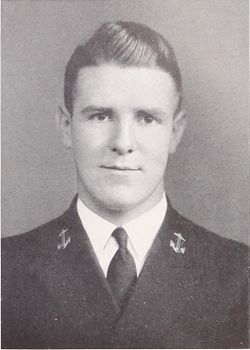 From the 1940 Lucky Bag:
MERLIN PADDOCK

Wayne, Nebraska

Exchanging waves of golden grain for waves of salty bine, Duke cruised in from Nebraska, with a fine foundation, keen intelligence, and steady determination that have assured him a merited success. His enthusiasm and humor readily win the liking of both sexes; his rangy, powerful frame makes him equally at home on tennis court or wrestling mat. A fast car, a trim speedboat, or a roaring plane put "Paddy" in his happiest mood. Foreign ports must remember his mad mixture of motorcycles, "mädchens," and merry makings. There's a place at the top, and calm, confident, capable "Duke" is the man to find it.
Loss
Duke was lost on April 16, 1945 while attached to VF-23 near Kagoshima.
His wife was listed as next of kin.
Obituary
From Find A Grave:
Navy Lt. Commander Merlin Paddock, World War II, son of Rev. and Mrs. John A. Paddock, was born on March 15, 1917. He is a 1934 graduate of Osmond High School and a graduate of the U.S. Naval Academy at Annapolis, Md.

Lt. Commander Paddock was officially declared missing in action and presumed dead following a bombing attack on units of the Japanese Navy near Kagoshina, Japan, on April 16, 1945. His carrier plane was shot down over Kyusha Island. Lt. Commander Paddock was seen bailing from his plane after it was hit.

His body was returned to the United States in 1948 and he is buried in Osmond City Cemetery. He was survived by his wife, Marjorie, two daughters, his parents, brothers John and Irving and sister Ruth Voorhees.

From Hall of Valor:

The President of the United States of America takes pride in presenting the Navy Cross (Posthumously) to Lieutenant Commander Merlin N. Paddock, United States Navy, for extraordinary heroism in operations against the enemy while serving as Pilot of a carrier-based Navy Fighter Plane and Commander of an Air Group, Fighting Squadron TWENTY-THREE (VF-23), attached to the U.S.S. LANGLEY (CV-27), during action against major units of the Japanese Fleet off the southwestern coast of Kyushu, Japan, on 7 April 1945. Ordered to strike an enemy light cruiser after escorting our torpedo and dive bombers to the area through extremely adverse weather, Lieutenant Commander Paddock flew in over his assigned target in bold defiance of the enemy's concentrated anti-aircraft fire. Courageous and determined, he promptly maneuvered for maximum striking power and, despite the low visibility, pressed home his attack with devastating speed and skill, scoring a direct bomb hit to neutralize the shattering gunfire and enable our torpedo bombers to complete the destruction of this vital hostile Fleet unit. By his superb airmanship, daring tactics and cool courage, maintained in the face of tremendous odds, Lieutenant Commander Paddock contributed materially to the success of our aerial offensive against the Japanese and his brilliant leadership and valiant devotion to duty throughout the fierce action reflect the highest credit upon himself and the United States Naval Service.

Action Date: 7-Apr-45
Rank: Lieutenant Commander
Company: Fighting Squadron 23 (VF-23)
Division: U.S.S. Langley (CV-27)