THOMAS C. MCEWEN, JR, CAPT, USAF
From USNA Virtual Memorial Hall
Date of birth: October 22, 1929
Date of death: February 24, 1965
Age: 35
Lucky Bag
From the 1952 Lucky Bag:
Loss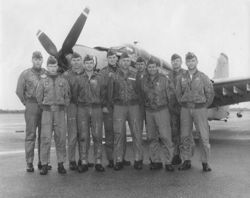 From Special Operations Newsletter, July 2005:
Seeking any information that you have on Capt. Thomas C. McEwen, Jr. We have heard he was KIA on 24 Feb 65. That's all we know.
Thanks, His old fraternity brothers at Vanderbilt University, Nicks Williams, paddymurphy74@yahoo.com, Charlotte, NC

Why do you want information for and what do you know about Capt McEwen?

Gene, thanks much for such a quick response. Here's what I know (or I think I know). Capt. McEwen started at Vanderbilt University then must have transferred to the Naval Academy around 1951. Not sure where he is from. He was a memebr of Sigma Alpha Epsilon fraternity at Vanderbilt. I found his name listed on our SAE master roll as Capt. Thomas C. McEwen, Jr. Saw somewhere on the Internet where he was killed in action on 24 Feb 1965. However, I went to a Vietnam casualty site and they have no listing for him. Would love to find out anything I can to pass along to our Vanderbilt SAE alumni (650 men from Classes of 1934 to 2004.) I have yet to poll men from his era at Vandy who may have known him but am getting ready to next week. Thanks for your help.

The old 1964 SAWC booklet on the 1st ACW listed Capt McEwen as being killed on 4 Feb 1962 at Greensboro, NC and it also had some other descripancies.

On May 1, 2005, at 11:28 PM, Gene Rossel wrote to the Skyraider Organization.: You have Capt Thomas C. McEwen on Express-09 Condra/Re which states he was KIA 65/02/24. I knew Tom when I got in the Air Commandos in late 61. I liked him as a friend and talked to him often. What I remembered of him was he was a USNA grad, a karate expert and an all around good guy. I thought he had died in an T-28/A-1E in the US when he failed to come out of a dive. Do you have anything to add to this. Gene Rossel

Hi Gene, I have him KIA as indicated on 1965/02/04. Here is the writeup: CAPT GAREISS WAS THE INSTR PILOT & CAPT MCEWEN THE PILOT ON AN EVALUATION/TNG FLIGHT. THE AIRCRAFT ENTERED A SPIN AT 3000 FEET WHILE EXECUTING AN ACROBATIC MANEUVER. THE AIRCRAFT STRUCK THE GROUND IN A FLAT ATTITUDE & EXPLODED 15 MILES SE BIEN HOA. Hook, Byron Hukee, a1hukez@t-online.de, F-100/A-1/A-7/F-5/F-16 skyraider.org
It appears that an announcement of his death & funeral is in the March 4, 1965 edition of The Tennessean.
Can't find any other confirmation on these details.
Thomas is one of 48 members of the Class of 1952 in Memorial Hall.