WILLIAM C. ROGERS, 1LT, USMC
From USNA Virtual Memorial Hall
Date of birth: July 17, 1947
Date of death: September 27, 1973
Age: 26
Lucky Bag
From the 1969 Lucky Bag: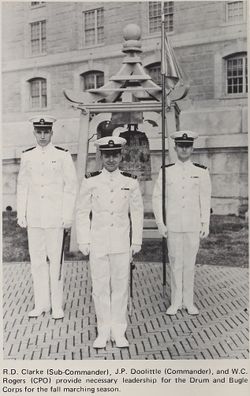 Shipmate
From the March 1974 issue of Shipmate:
Capt. William Clifford Rogers, USMC, died on 27 September in Naples, Italy.

Capt. Rogers, born in Camp Lejeune, N.C. graduated from the Naval Academy in 1969. His first duty assignment after graduation was to the Marine Corps Basic Officer School in Quantico, Va. Upon completion of the Basic course he reported for Air Force flight training at Laughlin Air Force Base in Del Rio, Tex., where he was awarded his Air Force Wings. He then reported to Cherry Point, N.C., for Marine Aviation transition training and then for further training in the F-4 Phantom. At the time of the aircraft accident which caused his death he was attached to VMFA 251. but was serving temporary duty with VMFA 333.

He is survived by his widow, Sandra, 469 Dogwood Ave., Laurel Bay, SC 29902; and his parents, LCol. and Mrs. Harry J. Rogers, Jr.
He was [ https://newspaperarchive.com/williamsport-sun-gazette-oct-04-1973-p-36/ a 1965 graduate of Hughesville HS], Pennsylvania.
He is buried in Picture Rocks Cemetery, Pennsylvania.
Memorial Hall Error
The funeral notice for William gives his rank as Captain, as does the Register of Alumni and the March 1974 issue of Shipmate.
William is one of 17 members of the Class of 1969 in Memorial Hall.