ALEXANDER S. WADSWORTH, III, LCDR, USN
From USNA Virtual Memorial Hall
Lucky Bag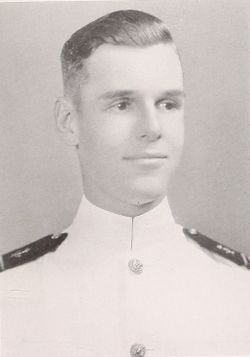 From the 1939 Lucky Bag:
ALEXANDER SCAMMEL WADSWORTH, III

AT LARGE

Sandy

Coming from a line of Navy people gives a fellow a reputation to uphold, and never let it be said that Sandy didn't do his part to uphold the good name. His diversified knowledge has stood him in good stead many a time, and plebes and classmates often find him helpful in their perplexity. Second class September leave left Sandy with a dazed look on his face; from that time on the redmikes had lost a charter member. The social whirl, dragging, and Sunday afternoon ketch trips quite took him out of the classification. A combination of knowledge, thoroughness and a likeable personality will get you far in the Navy, Sandy, so we all join in wishing you a long, successfully pleasant voyage.

Water Polo 4; Battalion Water Polo 3; Battalion Swimming 2, 1; Boat Club 4, 3, 2, 1; Radio Club 1; Company Small Bore; 2 Stripes.
Loss
Alexander was lost when USS Golet (SS 361) was sunk, probably by Japanese surface forces on June 14, 1944. He was the boat's executive officer.
His wife was listed as next of kin.
Silver Star
From Hall of Valor:
The President of the United States of America takes pleasure in presenting the Silver Star to Lieutenant Commander Alexander Scammel Wadsworth, III (NSN: 0-82693), United States Navy, for conspicuous gallantry and intrepidity in action against an armed enemy in his capacity as Torpedo and Gunnery Officer of the U.S.S. GRAYLING (SS-209) during the period 14 July 1942 to 25 April 1943. In this period he made FOUR War Patrols in his ship, which is credited with having sunk seven enemy ships totaling 34,957 tons and damaged four ships totaling 27,500 tons. During many of the attacks his ship was in constant danger of attack by enemy air and surface vessels. In six gun actions, some of which were opposed by enemy gunfire, he calmly and courageously directed the fire of the ship's gun battery which resulted in the sinking of five vessels ranging from one hundred to two thousand tons and damage with subsequent grounding of a sixth enemy ship of one thousand tons. At all times his heroic manner inspired confidence in every member of the crew. His actions were in keeping with the highest traditions of the United States Naval Service.

General Orders: Commander 7th Fleet: Serial 0384 (February 21, 1944)
Action Date: July 14, 1942 - April 25, 1943
Service: Navy
Rank: Lieutenant Commander
Company: Torpedo and Gunnery Officer
Division: U.S.S. Grayling (SS-209)