ARNOLD W. BARDEN, JR., LTJG, USN
From USNA Virtual Memorial Hall
Lucky Bag
From the 1969 Lucky Bag:
ARNOLD WINFIELD BARDEN, JR.

Arne came to the Academy, via Presidential appointment, from Huntington Beach, California. Prior schooling included attendance at Villanova Preparatory School, and Cal-State College at Long Beach. His extra-curricular activities included the Log, Italian Club and Foreign Relations Club, in addition to being the Lucky Bag and Company Representative. He was a member of the Plebe gymnastics, batt and varsity fencing teams, and the sailing squadron. Arne is a man capable of achievement over and above the average and expected modicum, always in search of enlargement and fulfillment, and in hot pursuit of a Walden Pool and a Coney Island.
Loss
From Together We Served:
LTJG Arnold W. Barden Jr, USN, USNA Class of 1969, was killed in action on 20 September 1971 14 km. W-SW of Duc Hoa City in South Vietnam. He was piloting a UH-1B when his main rotor departed in flight due to hostile action over Bien Hoa Province. He was assigned to the SEAWOLVES of HA(L)-3 [HELATKRON -3] [Helicopter Attack Squadron 3] with USNAVFORV [US Naval Forces, Vietnam]. He had been flying missions in-country for 9 months. Other members of deceased crew consisted of LCDR Laurence L. COVER, AMS1 Harold E. COWEN and ADJ2 Charles H. Goldbin.
Remembrances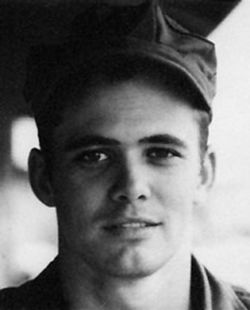 From Wall of Faces:
Arnie, my memories of our special friendship are as vivid today as they were in the 1960s. I had great affection and admiration for you then and even more so now after you sacrificed your life for our country. You will never be forgotten. KATHY DUNNE, ROCKLAND, MAINE, 11/30/16
I went through flight school with Arnie. He was a great guy and a friend to all who know him. All of us grieved when we heard of his and LtCdr. Cover's deaths. He is still in my thoughts often. JOHN M. WILKINSON, FORMER CAPT., USMC, 6/9/16
Arnie,
It's been tough to learn of your passing. As your roommate at Villanova Prep for the first two years of high school we got to know each other pretty well. You were the reason we passed room inspection every Saturday.You must have known Annapolis was in your future. I remember very fondly the weekend your folks invited me down to your home at El Toro Marine Base to spend the weekend with all of you. Your Mom and Dad were such warm and kind people - I'm so sad they had to face the unimaginable tragedy of your loss. Before I go, I wanted you to know that I dedicated my career to you and all the others who weren't able to come home from that war. I was in the Submarine Service, fulfilling a childhood dream, but I had it safe and easy and made it back to go to college. Thank you for the courage and spirit you and your comrades passed on to me - it has made all the difference. HUGH BARRETT, 5/25/14
I was so lucky to get to know you at Huntington Beach High School. You were the friendliest person with a terrific personality. You use to call me Plum because my favorite color was royal blue and I wore a lot of it. I am so greatful for all you did so we can enjoy this great country. I am sorry it took me so long to acknowledge your ultimate sacrifice CONNIE (ANDERSON) BOWERS, SISSY46_9@MSN.COM, 6/5/11
I got my wings with Arnie and 3 other Naval Aviators in August 1970 at the chapel at Ellyson Field. We spent a lot of time around the swimming pool there that summer. I ran into him again in Subic Bay in the summer of '71. He was there for R & R. He was a fine and charming fellow. I'm so sorry for his death as such a young age. Ron Pyron, former Capt., USMCR RON PYRON, GRAY, TN, RONPYRON@COMCAST.NET, 12/28/03
Family
Arnie was survived by his parents, COL Arnold W. Barden, Sr., USMC (ret) and Natalie Keenan.
Related Articles
It's unclear if they overlapped, but William Sigler '69 was also a member of Helicopter Attack Squadron (Light) (HA(L)) 3 in 1971-1972.