ARTHUR C. DAY, 2LT, USMC
From USNA Virtual Memorial Hall
Lucky Bag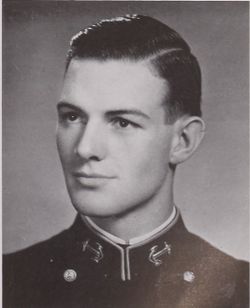 From the 1945 Lucky Bag:
Arthur Curtis Day

Jamestown, Rhode Island

Though he has yet seen no service in the U. S. Marine Corps Art is to all intents and purposes a "Gyrene." His interests at the Academy have centered about a serious intention to become a well-equipped fighter. Sketching gun mounts, stripping down weapons, planning beach landings and perusing infantry journals were ways of enjoying leisure hours. This seriousness of purpose was occasionally amusing. On security watch one evening, he was stealthily tracking a would-be saboteur when a change of wind cleared Bill IX of this misnomer and incidentally saved his life. However, come this or any other incident Art will never lack confidence in his choice of profession.

Varsity Lacrosse 4, 3, '45; Battalion Crew 3, 1; French Club 3.
The Class of 1945 was graduated in June 1944 due to World War II. The entirety of 2nd class (junior) year was removed from the curriculum.
Questions
Unable to find any information on Art's life or loss.
Concerned that he might not have been killed in action; there is another man with the exact same name who was commissioned into the Marines in 1943 via ROTC. Both men are from Rhode Island, too. He was killed in action in 1945. The ROTC graduate Lt Day is buried in Hawaii.
The only instance found in WWII casualty lists is of the ROTC graduate. (Mother's name is identical.)
Related Articles
Conrad Grove, Jr. '45, Lloyd Wyatt, Jr. '45, Robert Billings '45, James Dawley, Jr. '45, Jack Flanagan '45, Alfred Sawyer '45, Richard Hodsdon '45, and John Horn '45 were also in 8th Company.