BRUCE C. FRYAR, LT, USN
From USNA Virtual Memorial Hall
Lucky Bag
From the 1966 Lucky Bag:
Obituary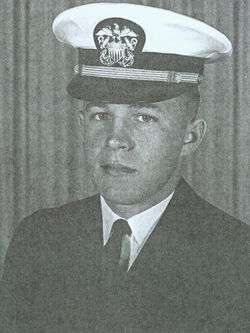 From Find A Grave:
Bruce Fryar was born March 28, 1944 in Seattle, WA and grew up in Chicago. After graduation in 1962 from Proviso East High School in Maywood, Ill he attended the U.S. Naval Academy where his fine tenor voice gave him an important role in the Glee Club, which toured the country and appeared on the nationally televised Bell Telephone Hour, and the Chapel Choir. He also participated in intramural handball and lightweight football. An outstanding student and a Superintendent's List regular with a cumulative 3.2 GPA, he graduated in 1966 with a B.S. in Aeronautical Engineering.

After a month of primary flight training with Training Squadron 1 at Saufley Field Naval Auxiliary Air Station in Pensacola, he flew his first solo flight in a T34 "Mentor" trainer aircraft in early 1967. Then followed 13 months of advanced flight training before he received his "Wings of Gold". He reported to the Naval Air Station Whidbey Island, Oak Harbor, WA in early 1968 for training accompanied by his wife Diane and their infant daughter. Whidbey was the West Coast training and operations center for medium-attack bomber squadrons. He was granted "Top Secret" clearance and selected for the postgraduate education program, to be undertaken after his first sea tour. He missed the opportunity. Attack Squadron 196 (VA-196) became Whidbey's first squadron to receive the Grumman A-6A Intruder on Nov. 15, 1966. The A6 Intruder was considered to be the best ship-based attack aircraft.

He moved to Vietnam with VA-196 in late 1969 as part of Air Wing TWO on the USS Ranger, arriving at Yankee Station in November where they settled down to the daily routine of flights over the Ho Chi Minh Trail as the enemy moved anti-aircraft artillery into southern Laos. Bruce confided in a friend that he did not expect to survive the cruise; he nonetheless had the courage to pilot his A-6A every day in combat. VA-196 flew more A6 sorties and suffered greater losses than any other carrier-based squadron.

In 1969, as had become the custom, a 24-hour cease-fire was announced for the New Year's holiday. As had also become the custom, there were 111 enemy violations. On January 1, 1970 full-scale offensive operations resumed as 30 B52 bombers undertook raids in South Vietnam, near the Cambodian border. The next day, warplanes from the carrier USS Ranger again tried to close the Ho Chi Minh Trail.

That day, January 2, Lt. Fryar and his Bombardier/Navigator Lt. Nicholas G. Brooks, with a load of six MK82 bombs, were on a raid on a storage dump along the Ho Chi Minh Trail in the Mu Gia Pass area. At approximately 5,400 feet, on his second 40º dive during a visual dive-bombing attack, the plane exploded and the starboard wing separated from the fuselage, perhaps after being hit by 23mm flak. It is also possible that the bombs exploded prematurely. The plane crashed, exploded and burned. Other planes in the flight saw two parachutes and heard beeper signals from two survival radios, indicating that both crewmen had safely ejected.

Search and Rescue efforts began immediately. One man was sighted lying on the ground still wearing his parachute. A SAR helicopter crewman was lowered to attach a hoist to the man but heavy enemy ground fire forced the helicopter to take off before getting hold of the man. The SAR crewman was able to identify the flier as Lt. Fryar and indicated that he was dead. The next day the SAR helicopter returned to find that the flier and the parachute were gone. An emergency beeper was heard but attempts to identify a pattern of transmission or voice contact were unsuccessful. After five days, SAR efforts were called off. Both crewmen were initially declared missing in action and eventually both were declared killed in action.

Captain Brooks' remains were identified and repatriated in April 1982. In February 1986 the Joint Casualty Resolution Center received information that remains had been recovered from this crash site but could not be identified as those of Lt. Fryar. In May 1991, a joint U.S./Lao investigation of a crash site believed to be Lt. Fryar's included an interview with witnesses who said the bodies of two crewmen were recovered after the incident and were buried in an adjacent bomb crater. The joint team recovered remnants of two survival tests, one flight suit and other artifacts but no remains. As no firm determination of his death has yet been made, he is listed as presumed dead, body not recovered – the official handle for MIA.

Bruce Fryar was awarded the Air Medal with Numeral "2" for "meritorious achievement in aerial flight… Lt. Fryar contributed materially to the success of the United States efforts in Southeast Asia. His skill, courage and devotion to duty in the face of enemy fire, under hazardous flying conditions, were in keeping with the highest traditions of the United States Naval Service". He was also awarded the Navy Commendation Medal with Combat "V", "for heroic achievement as a pilot of jet aircraft … during combat operations in Southeast Asia. On 22 December, 1969 Lt. Fryar was assigned the mission of destroying active enemy gun positions. He courageously piloted his aircraft within the lethal envelope of the antiaircraft artillery, purposely drawing fire to himself in order to pinpoint the weapons and execute the attack. A dive-bombing attack was made through an intense barrage of enemy fire, and his weapons were observed to detonate precisely on target. Lt. Fryar's actions significantly decreased the enemy threat to the other strike aircraft in the target area and allowed the primary target, enemy supplies, to be destroyed."

He also was awarded the Purple Heart, Combat Action Ribbon, Meritorious Unit Commendation, National Defense Service Medal, Vietnam Service Medal with one bronze star, Republic of Vietnam Meritorious Unit Citation (Gallantry Cross Medal Color with Palm) and the Republic of Vietnam Campaign Medal, all posthumously. When lost, Bruce Fryar was 26 years old.
Remembrances
From Virtual Wall:
As it happened, I knew Bruce long before we joined VA-196. Bruce and I were both in the Chapel Choir and Glee Club at the Naval Academy, so were able to get to know each other. I remember that Bruce's family took great pains to show the Glee Club members a good time during a pre-Christmas tour that brought us to his home town in New Jersey. Bruce graduated in 1966, a year ahead of me, so I did not see him again until arriving at Whidbey in early 1968 for training. Bruce was a pilot, and arrived at Whidbey about the same time with his wife Diane and their infant daughter.

My son was born a short time after we arrived on the island, so our families naturally spent a lot of time together comparing notes and experiences on babies and the joys of living on Whidbey. Those who were there at the time will remember that the area did not exactly have a lot in the way of big-city entertainment (the only movie theater in town closed in mid-1968). The remoteness of the area, plus the effects of the war, made for a tight-knit community.

Bruce completed his A-6 RAG training about the same time I did (early 1969) and we were both slated to go to the same squadron (VA-196), which had just returned from a punishing deployment that had seen the loss of several planes and their crews. Bruce had talked with me about flying as his B/N, but I was already "spoken for" and was paired with LT Kenn "Yogi Bear" Brooks. Bruce teamed with a classmate of his, Nick Brooks , when they joined VA-196.

VA-196 deployed to Vietnam in late 1969 as part of Air Wing TWO on the USS Ranger. We arrived at Yankee Station in November, and lost two aircraft almost immediately on the same day (November 22, 1969) over the Ho Chi Minh Trail in central Laos. Only one of the four crewmen was recovered. After this shock, we settled down to the tedious hard work of daily flights over the Trail. As the weeks went by, the NVN Army moved more and more anti-aircraft artillery into the passes leading from North Vietnam and along the many roads headed south through Laos. On January 2, 1970, Bruce and his B/N, Nick Brooks, were shot down on an interdiction mission along the Trail in the Mu Gia Pass area, reportedly on a dive bombing run. Observers saw two parachutes, indicating that both crewmen had successfully ejected. A short time later, a SAR helicopter crewman spotted an unconscious flier who he later identified as Bruce, but was unable to attach a recovery line before the helo was driven off by heavy enemy fire. Although we ran SAR operations for several days, neither Nick or Bruce was recovered. Although Nick's remains were eventually returned home, Bruce was never seen or heard from again, and was officially listed as MIA.

I think the most telling thing that could be told about Bruce was something I never knew until just a few months ago. After many years I was able to locate and contact my former pilot, Kenn "Yogi Bear" Brooks. We were able to spend some time together and talked about Nick, Bruce, and others who had been lost on that cruise. Kenn told me that Bruce had confided in him that he did not expect to survive the cruise. Nonetheless, Kenn talked of his deep admiration for Bruce, who despite this premonition had the consummate courage to climb into his aircraft every day and face combat. Pete Young, pyoungwest@cox.net, August 11, 2003
From Wall of Faces:
I spotted your chute first. We found you wraped in your chute not responsive. Our PJ was lowered to you. He was having trouble unwraping you and keeping chute deflated to keep it out of the rotor. Then the ground fire started. Seemed to be 360 degrees around us. We were taking hit after hit.Our cover birds we screaming for us to depart NOW.At the age of 22 i was forced into making a life or death decision that has ate me alive for 33 years.I raised our PJ and we depated under fire. They chased us with 37MM anti aircraft fire untill we cleared the mountain. I cried all the way back to the base. I still awake crying after 33 years. I am so sorry. Forgive me. TOM POPE, 7/10/03
Family
Bruce was survived by his wife and young daughter.
Related Articles
Nicholas Brooks '66 was bombardier/navigator of the A-6A Intruder and was also killed in the crash.
Thomas Boyle, Jr. '66 and Andrew Sekan '66 were also in 16th Company.
Class of 1966
Bruce is one of 36 members of the Class of 1966 on Virtual Memorial Hall.