BRUCE J. DONALD, LT, USN
From USNA Virtual Memorial Hall
Lucky Bag
From the 1995 Lucky Bag:
Loss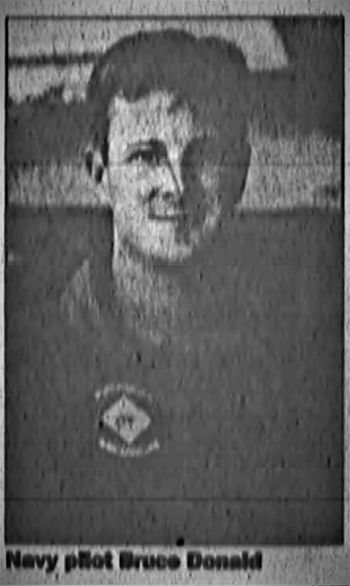 From The Hanford Sentinel on October 6, 2000:
U.S. Naval Forces Central Command presumed Donald's jet had crashed on Sept. 29 soon after launching from the USS Abraham Lincoln, an aircraft carrier that had stationed itself on the Arabian Gulf on Sept. 24. Donald reportedly launched his single-seat Hornet from the USS Abraham Lincoln at 9:30 a.m. in order to conduct a carrier landing proficiency flight and soon lost communication with the aircraft carrier moments after conducting the routine flight….

He was assigned to VFA-25 in August 1999 and deployed with his squadron to the USS Abraham Lincoln in August 2000.

Donald is survived by his parents, Patrick and Elaine Donald, and his brother Brian, all of Poughkeepsie, N.Y.
From the Poughkeepsie Journal on October 2, 2000:
The jet had lost communication with the aircraft carrier USS Abraham Lincoln soon after taking off for a routine test on carrier landings….

According to his high school yearbook caption (Spackenkill H.S. 1991), he was active in sports including tennis, skiing and cross country. He also was a member of the school's Students Against Drunk Driving chapter.

His ambitions included fixing the rust on his car, owning "a real BMW" and landing on his skis after a jump, according to the yearbook.
He is buried in Arlington National Cemetery.
Remembrance
From Capitol Words, the below tribute was given on the floor of the United States House of Representatives by The Honorable Sue W. Kelly, of New York's 19th Congressional District, on October 4, 2000:
Mr. Speaker, I rise today to honor a man from my district, Lieutenant Bruce Joseph Donald of Poughkeepsie, who was killed last Friday when his F-18 Hornet strike fighter crashed in the Persian Gulf.

Lieutenant Donald, known by his call sign, "Straydog," was a 1995 graduate of the Naval Academy where he earned a Bachelor of Sciences degree in Ocean Engineering. Following graduation, Lieutenant Donald spent 6 months at his alma mater on temporary duty prior to being sent to Pensacola, Florida, to begin preflight indoctrination training. Afterwards, he traveled to Corpus Christi, Texas, for primary flight training, and then completed advanced jet training in Kingsville, Texas.

According to his superior officers, Lieutenant Donald performed exceptionally during flight school and, in February of 1998, he earned his Wings of Gold and an assignment to F/A-18 replacement pilot training at VMFAT-101. Having successfully completed replacement training, "Straydog" reported to VFA-25 in July 1999.

As a member of the "Fist of the Fleet," he excelled as a strike fighter pilot and served as the squadron's naval aviation training and operations procedures standardization officer, air-to-ground training officer, coffee mess officer, and landing signals officer. Lieutenant Donald was an exceptional pilot with sound judgment and was a designated combat section leader.

Although we live in a time of relative peace, we must never forget that the men and women who serve this Nation are constantly putting their lives on the line. We owe a tremendous debt to these men and women and to their families who love and support them through their training and deployments so that we may continue to live in a world of hope and the promise of peace.

Having dedicated much of his young life to the service of this Nation, it is only fitting that Lieutenant Donald can be commemorated here. Lieutenant Bruce Donald is survived by his parents, Patrick and Elaine Donald, his brother Brian, all of Poughkeepsie, New York. I offer the Donald family and their friends my deepest condolences.
From the Poughkeepsie Journal on October 3, 2000:
Friends and family described Bruce Donald as a man who worked hard, savored life and pushed the limits in his effort to achieve more.

Flags throughout the Spackenkill school district, from which Bruce Donald graduated in 1991, flew at half-staff Monday in his honor, said Spackenkill Superintendent Andrew Manca.

"He was a bright boy and very focused in what he wanted to do," Manca said.

Bruce Donald served as president of his senior class at Spackenkill, exceled at sports, was a good student and was involved in a myriad of extracurricular activities.

"Popeet" was the nickname Bruce Donald acquired in high school and it later served as his call name when he became a pilot. He and his friends were watching television one night when an info-commercial for Popeet – a collapsible cup – came on. Bruce Donald joked about it and the name stuck.

Deborah Varga, who worked at Spackenkill High School remembered Bruce Donald – and his car.

Donald drove an old, rusty BMW – a jalopy was how Varga described it – called the "Popeet Mobile."

"He was a real spunky young man," said Varga, who described Donald as about the stature of actor Michael J. Fox, with freckles and a twinkle in his eye.
Bruce is one of 6 members of the Class of 1995 on Virtual Memorial Hall.
The "category" links below lead to lists of related Honorees; use them to explore further the service and sacrifice of the alumni in Memorial Hall.