CHARLES A. KNOCHEL, LT, USN
From USNA Virtual Memorial Hall
Lucky Bag
From the 1962 Lucky Bag:
Loss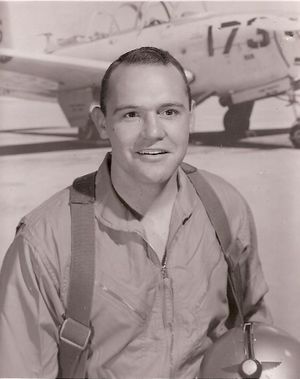 Charles's AH-1H Skyraider was hit by ground fire on September 22, 1966 over Mu Ron Ma and the starboard wing caught fire. He ejected overt sea but his chute was seeing to be wildly gyrating and he hit the water hard. By the time the helicopter got to him he had disappeared beneath the waves. He was a member of Attack Squadron 176 (VA 176), flying from USS Intrepid (CVS-11).
Obituary
From Find A Grave:
Navy Lt. Charles Allen Knochel, 26, Buck Creek, died Thursday, Sept. 22, when his Navy Skyraider fighter plane was shot down during a mission over North Viet Nam.

His parents, Mr. and Mrs. Fern L. Knochel, who live on Route 5 at the edge of Buck Creek, were first informed their son was missing by Navy personnel from Purdue university.

Later Thursday they received a telegram from the Navy Department saying he had been killed in action.

The officer's father said they were told his son's jet had reached the open sea, presumabley on the flight back to the carrier, and that he successfully bailed out. Skyraiders do not have ejection seats.

Since Lt. Knochel was a proficient swimmer, the older Knochel said, "we assume he either was wounded and unable to further help himself, or became entangled in his parachute." There is no hope of locating the flier's body.

Lt. Knochel as a part of Squadron VA176 was assigned to the carrier USS Intrepid last March in the waters off South Viet Nam.

His widow, the former Harriet Tyler Heise of Annapolis, Md., said he never had indicated the number of missions he had flown, but had been looking forward to rest and recuperation in the Philippines, and hoped to leave for home the latter part of October or early November.

He was graduated from Buck Creek high school in 1957 and after a year at Purdue entered the U.S. Naval Academy, Annapolis, Md.

He was graduated in 1962, took flight training at Pensacola, Fla., and received his wings at the Corpus Christi (Tex.) Naval Air Station in 1963.

Last year he took part in a cruise on the carrier USS Shangri La in the Mediterranean Sea and through last winter was stationed at the Jacksonsville (Fla.) Naval Air Station.

He recently was awarded an Air Medal with gold star aboard the Intrepid "for meritorious achievement in aerial flight."

The officer's widow has been living with her sister in Williamsburg, Va., whose husband is also in Viet Nam. The couple's daughter, Elizabeth Merritt, is eight months old.

Lt. Knochel's father is a Republican member of the Tippecanoe County Council from the 2nd District.

Also surviving are a brother, John of Indianapolis; two sisters, Mary J and Jane, at home; grandparents, Mr. and Mrs. Gust Knochel and Mr. and Mrs. P.W. Merritt of Remington; and numerous other relatives in the Remington area.
He married Harriet Heise on December 27, 1964 in Annapolis.
Remembrances
From Wall of Faces:
I never knew my father because I was an infant when he was shot down. It is enough for me to know that he did what his nation asked of him. He did it bravely and he did it gladly.

I am proud of this legacy, and prouder still to be the mother of his two bright, brave grandchildren who resemble him in body and spirit. ELIZABETH MERRITT KNOCHEL WHALING, 10/29/09
Family Pictures
These pictures are all from Find A Grave, posted by Alana Knochel Bauman.
Related Articles
John LaVoo '62 was also a member of 15th Company and shares the same Lucky Bag biography page. In the Fall semester, John was Company Commander and Charles was Company Sub-commander.
Class of 1962
Charles is one of 30 members of the Class of 1962 on Virtual Memorial Hall.
The "category" links below lead to lists of related Honorees; use them to explore further the service and sacrifice of the alumni in Memorial Hall.