CHARLES P. MASON, JR., LT, USN
From USNA Virtual Memorial Hall
Birthdate & Date of Loss
| | |
| --- | --- |
| Date of birth: | June 7, 1918 |
| Date of death: | September 11, 1944 |
| Age: | 26 |
Lucky Bag
From the 1940 Lucky Bag:
CHARLES PERRY MASON, JR

Pensacola, Florida

Charlie is a rather quiet fellow at heart, but never misses out on the brighter side of things. He is very sincere in all that he undertakes and has set a high goal for himself — which we are confident he will attain. Charlie has shown marked ability along athletic lines, and is enough of a driver to use his spare time always to best advantage. Charlie is a great one with the fair sex and rarely misses an opportunity to further the noble pursuit of "snaking." The best of shipmates, we hope to see lots of him in the coming years. Success to you. Charlie.
Loss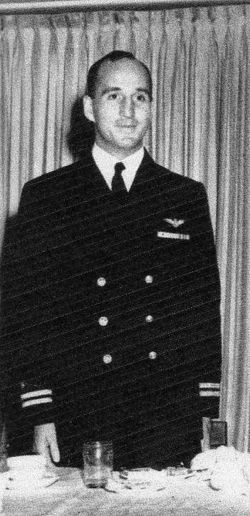 Charlie was lost in an aircraft accident near Fallon, NV on September 11, 1944.
He has a memory marker in Florida.
Family
From his father's Wikipedia entry:
He and his wife raised their grandson C. P. Mason III after his daughter in law was killed in a car crash. C. P. Mason III graduated from the U.S. Naval Academy and became a naval aviator.