CHARLES W. FLUSSER, LCDR, USN
From USNA Virtual Memorial Hall
Charles Flusser '53
Date of birth: September 27, 1832
Date of death: April 19, 1864
Age: 31
Lucky Bag
The Lucky Bag was first published in 1894.
Biography & Loss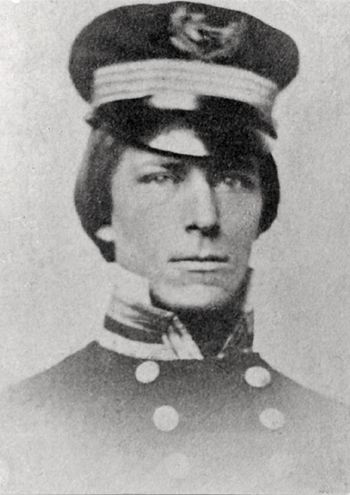 Born at Annapolis, Maryland, Flusser entered the United States Naval Academy in 1847 and graduated with the Class of 1853 with the rank of passed midshipman. He received promotion to master and then lieutenant on September 15 and 16, 1855, while serving in the South American Squadron. In early 1861, Flusser was appointed to the Naval Academy in Annapolis, and oversaw its relocation to Fort Adams in Newport, Rhode Island.

Flusser served on blockade duty off the coast of Georgia in late 1861, before being appointed commander of the gunboat Commodore Perry for the Burnside Expedition, taking part in the victory at the Battle of Elizabeth City in February 1862.

Flusser was promoted to lieutenant commander in July 1862, also assuming command of all Union gunboats in Albemarle Sound. He took part in the expedition against Franklin, Virginia, in October 1862, with his ship only narrowly escaping capture.

Flusser was killed in action on April 19, 1864, during the Battle of Plymouth, in the engagement between the Miami and Southfield against the Confederate ironclad CSS Albemarle. In that action, Flusser personally fired a cannon shell at the Confederate ironclad. The shell, with a 10-second fuse, bounced off the Albemarle's armor and landed back on the deck of the Miami, where its explosion killed him. Brigadier General Henry Walton Wessels, commanding U.S. Army troops at Plymouth, North Carolina, noted: "In the death of this accomplished sailor the Navy has lost one of its brightest ornaments..."

Flusser was interred at the military cemetery in New Bern, but in 1868 his remains were transferred to the Naval Academy Cemetery.
Charles was survived by his wife, Juliana, whom he married on November 24, 1827. He is buried in the Naval Academy Cemetery.
He is listed on the killed in action panel in the front of Memorial Hall.
Career
From the Naval History and Heritage Command:
Midshipman, 19 July, 1847. Passed Midshipman, 10 June, 1853. Master, 15 September, 1855. Lieutenant, 16 September, 1855. Lieutenant Commander, July, 1862. Killed on board the Miami, 19 April, 1864.
Namesakes
Several ships have been named for William:
Other
He is used as an example of how to search for information of Civil War-era veterans by the National Archives of the United States.
The "Register of Commissioned and Warrant Officers of the United States Navy and Marine Corps" was published annually from 1815 through at least the 1970s; it provided rank, command or station, and occasionally billet until the beginning of World War II when command/station was no longer included. Scanned copies were reviewed and data entered from the mid-1840s through 1922, when more-frequent Navy Directories were available.
The Navy Directory was a publication that provided information on the command, billet, and rank of every active and retired naval officer. Single editions have been found online from January 1915 and March 1918, and then from three to six editions per year from 1923 through 1940; the final edition is from April 1941.
The entries in both series of documents are sometimes cryptic and confusing. They are often inconsistent, even within an edition, with the name of commands; this is especially true for aviation squadrons in the 1920s and early 1930s.
Alumni listed at the same command may or may not have had significant interactions; they could have shared a stateroom or workspace, stood many hours of watch together… or, especially at the larger commands, they might not have known each other at all. The information provides the opportunity to draw connections that are otherwise invisible, though, and gives a fuller view of the professional experiences of these alumni in Memorial Hall.
January 1847
Midshipman, Frigate Cumberland
January 1848
Midshipman, Frigate Raritan
January 1850
Midshipman, Frigate Raritan
January 1855
Passed Midshipman, Frigate Savannah
January 1856
Lieutenant, Frigate Savannah
January 1857
Lieutenant, leave of absence
September 1861
Lieutenant, Sloop Jamestown
January 1863
Lieutenant Commander, commanding officer, Steamer Commodore Perry
January 1864
Lieutenant Commander, commanding officer, Steam Gunboat Miami
Class of 1853
Charles is one of 9 members of the Class of 1853 on Virtual Memorial Hall.
The "category" links below lead to lists of related Honorees; use them to explore further the service and sacrifice of the alumni in Memorial Hall.