CHRISTOPHER B. WILHELMY, LT, USN
From USNA Virtual Memorial Hall
Lucky Bag
From the 1958 Lucky Bag:
Loss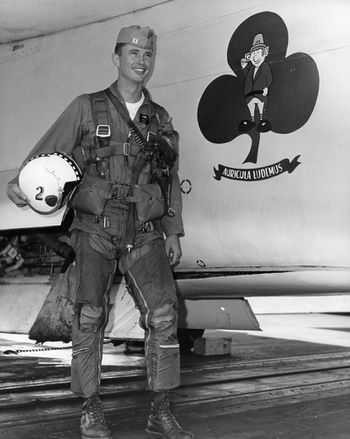 From Find A Grave:
He was the son of Christopher B. Wilhelmy and Elizabeth Kane, and had an older brother named John.

LT Christopher B. Wilhelmy III flew VFP-62 missions over Cuba during the Cuban missile crisis and received the Distinguished Flying Cross. He wanted to be an Astronaut, so the first step on that road was going to the navy test pilot school at Pax River. It is believed that he was flying a T-28 there when he pulled the wings off of it. He was killed in the crash. This happened on Feb. 17, 1966.
Remembrances
From VFP 62:
When I saw the movie about the Cuban missile crisis, one of the scenes showed the pilots walking out to man the aircraft. One of the names on the side of the aircraft was Bruce Wilhelmy. He was a classmate of mine at the academy. He and I were in the 20th company. He was company commander - I was not. It was a sad day when the news filtered down that he died up at Pax River. Lt. Cdr. Scott Ruby, VFP-63 pilot
From VFP 62:
Evidently he was a great guy - and his big smile in his picture on your web site shows the fun loving guy that I've always heard he was. BTW, if you've ever seen the movie "Thirteen Days", they do have a character in the movie "playing" Bruce getting ready to fly during the Cuban missile crisis. Catherine Maloney
Book

Bruce is mentioned several times in the book "Blue Moon over Cuba: Aerial Reconnaissance during the Cuban Missile Crisis" By William B Ecker USN (ret.), Kenneth V. Jack, Michael Dobbs.
Related Articles
Monte D'Armand '58 was also in 20th Company.
Christopher is one of 28 members of the Class of 1958 on Virtual Memorial Hall.
The "category" links below lead to lists of related Honorees; use them to explore further the service and sacrifice of the alumni in Memorial Hall.