CLAUDE W. CONNER, 1LT, USMC
From USNA Virtual Memorial Hall
Lucky Bag
From the 1970 Lucky Bag:
Loss
From the Albuquerque Journal, December 19, 1971 (via John Calkins '70 and Mike Novak '70):
Air Crash Kills Former Resident
Submitted by Pensacola, Fla. – Marine 1st Lt. Claude W. Conner, 21, formerly of Albuquerque, died Thursday in an aircraft accident here.

Lt. Conner was a 1970 graduate of the U.S. Naval Academy and attended the University of New Mexico one year before going to the academy.

He is survived by his widow, Mrs. Cheryl Conner of the home in Pensacola, Fla., his parents Mr. and Mrs. Lloyd W. Conner; a sister, Mrs. Catherine O'Neal, and a brother, David G. Conner, all of Albuquerque; his maternal grandparents, Mr. and Mrs. Ted Rutstein, of Rochester, New Hampshire.

Services will be held from Chapel No. 2, Kirtland AFB, Thursday morning at 11 a.m. with Navy Chaplain John R. Hershberger officiating. Interment will be in Santa Fe National Cemetery.
The instructor pilot, LCDR St. John, was also killed in the crash.
He is buried in New Mexico.
Shipmate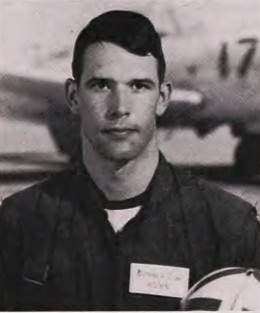 From the April 1972 issue (via Mike Novak '70):
1/Lt. Claude Wayne Conner, USMC, was killed in an aircraft accident at Whiting Field in Milton, Fl., on 16 December. It was his last scheduled flight. His instructor was killed also.

Born in Maryland, he attended U. of New Mexico for a year before entering the Naval Academy. After graduation in 1970, he went to the Marine Corps Basic School in Quantico, Va. He then was assigned to NAS Pensacola, for flight training. At the time of his death he was attached to VT-2 at NAS Whiting Field, Milton, Fl. Lt Conner was to have reported to Ellison Field after Christmas leave.

Surviving are his widow, Janice, of Albuquerque, NM, and his parents, Mr. and Mrs. Lloyd Conner, also of Albuquerque.
Related Articles
Melvin Brown '70 was also in 30th Company.
Class of 1970
Claude is one of 20 members of the Class of 1970 on Virtual Memorial Hall.
The "category" links below lead to lists of related Honorees; use them to explore further the service and sacrifice of the alumni in Memorial Hall.