CLYDE R. WELCH, CDR, USN
From USNA Virtual Memorial Hall
Lucky Bag
From the 1951 Lucky Bag:
Loss
Clyde was lost on October 26, 1966 in the fire aboard USS Oriskany (CVA 34) that killed forty-four officers and injured 156 others. He is buried in Arlington National Cemetery.
Shipmate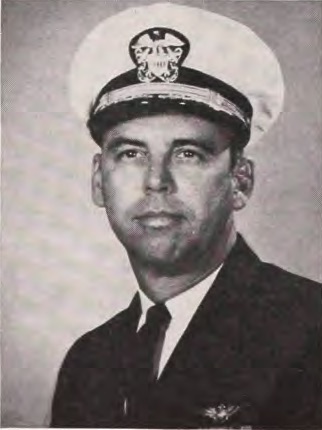 From the From the December 1966 issue of Shipmate issue of Shipmate:
Cdr. Clyde R. Welch, USN, died in the fire aboard USS ORISKANY in the South China Sea on 26 Oct. He had been serving as executive officer of Attack Squadron 164, based at the Naval Air Station, Lemoore, Calif. Services and interment were at Arlington National Cemetery on 7 Nov.

Cdr. Welch was born in Somerville, Tex. He attended Blinn Junior College and Texas A. & M . College before entering the Naval Academy, from where he was graduated in 1951. H e completed the Command and Staff Course at the Naval War College, Newport, and received his Master's degree in international affairs from George Washington University.

After serving as gunnery officer with CVA-45, he completed flight training at Pensacola where he was designated a naval aviator in September 1953. He was assistant administration officer in VF-63, then served as aide to Commander Naval Air Bases, 11th Naval District, and as flag lieutenant to Commander Fleet Air Hawaii. He served with Attack Squadrons 126 and 146, with CVW-12, then was fleet replacement pilot with Attack Squadron 125 before joining Attack Squadron 164. He held the Korean Presidential Unit Citation, the Navy Unit Commendation, United Nations, China Service and National Defense Medals.

He is survived by his widow Nancy, and two sons, Roger Laing and Scott David, of 112 Daunt- less, NAS Lemoore; his parents, Mr. and Mrs. Clyde V. Welch, and a brother Vernon of Somerville, Tex.
Career
From Virtual Wall:
1951 graduate of the Naval Academy.

Served aboard a frigate in Korean War.

Got his wings at Naval Air Station Pensacola.

Stationed at the Alameda Naval Air Station with the "Flying Redcocks."

Later headed squadrons out of Miramar and Lemoore (Miramar was a Master Jet Station in the 1950's)
Namesake of Welch Park at Lake Somerville, Texas.
Distinguished Flying Cross
From Hall of Valor:
(Citation Needed) - SYNOPSIS: Commander Clyde Ray Welch (NSN: 0-542235), United States Navy, was awarded the Distinguished Flying Cross (Posthumously) for extraordinary achievement while participating in aerial flight as a pilot during operations over hostile North Vietnamese territory on 22 October 1966.

General Orders: All Hands (February 1968)
Action Date: October 22, 1966
Service: Navy
Rank: Commander
Memorials
Clyde is among those names on the Vietnam Veterans Memorial in Washington, D.C. As his loss was not due directly to hostile action, though, he does not appear in the Vietnam War section of the Killed In Action panel in Memorial Hall.
Related Articles
Gerald Siebe '64 was also lost in this fire.
Clyde is one of 48 members of the Class of 1951 on Virtual Memorial Hall.
The "category" links below lead to lists of related Honorees; use them to explore further the service and sacrifice of the alumni in Memorial Hall.