CRAIG E. CROWLEY, 1LT, USAF
From USNA Virtual Memorial Hall
Lucky Bag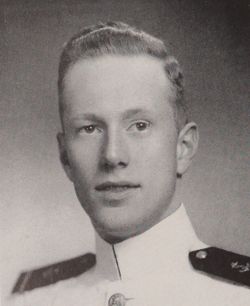 From the 1950 Lucky Bag:
CRAIG EDWARD CROWLEY

Washington, D. C.

A short career as a Deke at M.I.T. terminated by a Christmas Eve tour of a Wellesley constabulary sent Diz to Middy House, well-prepared for a struggle with a Naval education. Although never a star man, he made a minimum effort to remain sat. With his athletic ability confined mostly to the underside of his trousers, Diz was able to make an extensive study of the ceiling from his sack when not engaged as a stellar benchwarmer for the 150-Pound Football and Lacrosse Teams. The ability to make friends and his keen sense of humor will serve Diz well in any career that he might choose.
Loss
Craig was lost when his B-45 crashed on October 8, 1953 in southern California. He is buried in Arlington National Cemetery.
Family
Craig's father, Edward Dupuis Crowley '25 was lost in 1942 while serving as Repair Officer aboard USS Vestal (AR 4) in the South Pacific. Unable to find the nature of his loss, but he is not included in a list of Nebraskans lost in combat in WWII nor does his name appear in Memorial Hall.
His step father, Carl F. Espe, was a 1922 Naval Academy graduate and retired a Vice Admiral.
Memorial Hall Error
The Memorial Hall panel for the Class of 1950 has "LTCOL CRAIG E. CROWLEY, USN". Craig was a 1st Lieutenant (not LTCOL) in the Air Force (not Navy).
Related Articles
Hubert Evans '50 was also a member of the 25th Company.