DALE N. FENDORF, LT, USN
From USNA Virtual Memorial Hall
Date of birth: March 12, 1937
Date of death: July 15, 1964
Age: 27
Lucky Bag
From the 1959 Lucky Bag:
Loss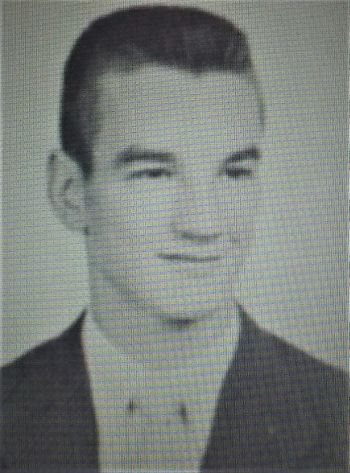 From The Kansas City Times on July 17, 1964
Lt. Dale N. Fendorf. a Navy pilot and a former Kansas City. Kansas, resident, was killed Wednesday when his jet exploded in the air off Crete during maneuvers in the Mediterranean. Highway patrolmen have been trying to locate Charles W. Brenneisen, Jr., Fendorfs father-in-law. He is returning from Jacksonville, Fla., where he was visiting his daughter, Mrs. Dale N. Fendorf, it was reported. Brenneisen is city attorney for Kansas City, Kansas. Lt. Fendorf was born in Iberia, Mo., and lived in Kansas City, Kansas, most of his life. He was graduated from the United States Navy academy at Annapolis in 1959. He also was graduated in 1955 from Wyandotte high school, where he played football. Surviving are his wife, Mrs. Ann Fendorf of the home; two sons, Robert Jeff Fendorf and Charles Jay Fendorf of the home in Jacksonville; his parents, Mr. and Mrs. Frank E. Fendorf, 1838 North Forty-ninth, Wyandotte County; three brothers, Dr. Kenneth Fendorf, Boulder Creek, Calif.; Frank W. Fendorf, Chillicothe, Mo., and Lt. Cmdr. James Fendorf, Quonset Point, R. I.; two sisters, Miss Carolyn Fendorf, 6000 Metcalf lane, Mission, and Mrs. Norman Gunderman, 4814 Catherine, Wyandotte County, and his maternal grand-mother, Mrs. L. J. Mavfield, Iberia, Mo.
He was attached to Fighter Squadron (VF) 14, aboard USS Roosevelt (Information from November 1964 issue of Shipmate.)
From researcher Kathy Franz: "In high school, Dale played center on the football team, was president of the Boys "W" Club, and was a member of Student Council."
Dale has a memory marker in Arlington National Cemetery.
Related Articles
David Shiverdecker '59 was also on the 150 Pound Football team.
Dale is one of 32 members of the Class of 1959 on Virtual Memorial Hall.
The "category" links below lead to lists of related Honorees; use them to explore further the service and sacrifice of the alumni in Memorial Hall.