DANIEL R. HERTZFELDT, LT, USN
From USNA Virtual Memorial Hall
Lucky Bag
From the 1962 Lucky Bag:
Loss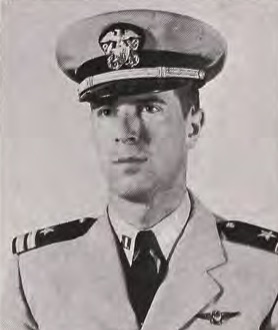 From the June 1968 issue of Shipmate:
Lt. Daniel R. Hertzfeldt, USN, was killed 12 March when his TS-95 Cougar plane crashed near the Patuxent River in Maryland. He was returning to the Naval Air Station at Kingsville, Tex., from Andrews Air Force Base when he crashed shortly after takeoff.

Memorial services were held at the Naval Auxiliary Air Station Memorial Chapel at Kingsville. Services were also held at Faith Lutheran Church, with interment in Mormon-Coulee Memorial Park, La Crosse, Wis.

Lt. Hertzfeldt was born in Wisconsin, and attended La Crosse State University one year before entering the Naval Academy, where he played lacrosse. He was graduated in 1962. He was a veteran of the Vietnam War, having flown 115 combat missions in the F4B Phantom II from the aircraft carrier INDEPENDENCE in 1965. He reported to Training Squadron 23 on 16 March 1967 and was serving as a flight instructor. He was awarded the Air Medal while serving with Fighter Squadron 41 aboard the INDEPENDENCE, and had been awarded his eighth Gold Star in lieu of a similar medal.

He also held the Distinguished Flying Cross, the Navy Commendation Medal, the National Defense and Armed Forces Expeditionary Medals, and the Republic of Vietnam Campaign Medal.

Surviving are his parents, Mr. and Mrs. Eldon Carl Hertzfeldt of 210 South 24th St., La Crosse, Wis.; two brothers, Lt. Donald Hertzfeldt, USA, of Colorado Springs, and David Hertzfeldt of Denver, Colo.; his paternal grandmother, Mrs. Carl Hertzfeldt of Alma, Wis.
Daniel is buried in Wisconsin.
Other
When Dan returned from a Vietnam combat deployment, he was profiled in the local La Crosse Tribune (Wisconsin) on December 26, 1965.
Related Articles
John Poe '62 was also in 20th Company.
Daniel is one of 30 members of the Class of 1962 on Virtual Memorial Hall.
The "category" links below lead to lists of related Honorees; use them to explore further the service and sacrifice of the alumni in Memorial Hall.