DONALD B. MESSERSCHMIDT, MAJ, USMC
From USNA Virtual Memorial Hall
Date of birth: October 12, 1936
Date of death: July 29, 1969
Age: 32
Lucky Bag
From the 1959 Lucky Bag:
Loss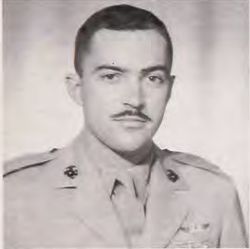 From the November 1969 issue of Shipmate:
Maj. Donald B. Messerschmidt, USMC, died 29 July at Quantico, Va., as a result of an aircraft accident. Services were held in Fort Myer Chapel, followed by interment in Arlington National Cemetery, with full military honors.

Born in Fort Wayne, Ind., Maj. Messerschmidt attended Purdue University before he was graduated from the Naval Academy in June 1959 and reported to Basic School at Quantico. Following flight training at Pensacola and Corpus Christi, Maj. Messerschmidt served as a pilot with the Second Marine Air Wing based at Cherry Point, N. C, until 1963 when he returned to Corpus Christi as a flight instructor. From 1965 to 1968 he had instruction at the Postgraduate School, Monterey and at the Marine Corps Air Station, Yuma, Ariz. Maj. Messerschmidt was a pilot with the First Marine Air Wing in Vietnam for a year and in May 1969 joined Company C, Headquarters Battalion, Marine Corps Base, Development Center, Quantico, as project officer, Air Support Division.

Among other awards he held the Air Medal, Presidential Unit Citation, Vietnam Service Medal with four stars and the Vietnam Campaign Medal with 1960 device.

Survivors include his widow Gail and three daughters Deirdre, Demise and Heidi, of Qtrs. 0-2, Marine Corps Base, Quantico, Va. 22134, and his parents Mr. and Mrs. Albert J. Messerschmidt of 2515 Lynn Ave., Fort Wayne, Ind. 46805.
He is buried in Arlington National Cemetery.
Related Articles
Guy Parsons, Jr. '59 and Jack Phillips '59 were also in 13th Company.
Donald is one of 32 members of the Class of 1959 on Virtual Memorial Hall.