DONALD H. AYER, 1LT, RCA
From USNA Virtual Memorial Hall
Date of birth: April 22, 1912
Date of death: March 4, 1945
Age: 32
Lucky Bag
From the 1934 Lucky Bag:
Loss
Don was lost in the Battle of Hochwald Gap (aka Hochwald Forrest), a part of the Rhineland Campaign, on March 4, 1945. He was a 1st LT in the Royal Canadian Army.
From the Canadian Virtual War Memorial:
Age: 32
Force: Army
Unit: 17th Duke of York's Royal Canadian Hussars, R.C.A.C.
Division: 7th Reconnaissance Regt.
Cemetery: GROESBEEK CANADIAN WAR CEMETERY, Netherlands
Additional Information: Son of Nathan Chase Ayer and Katharine Holman Ayer, of Kittery Point, Maine, United States.
In the February, 1946 issue of Shipmate, the Class Notes of 1934 include a full tribute to Don and his military career: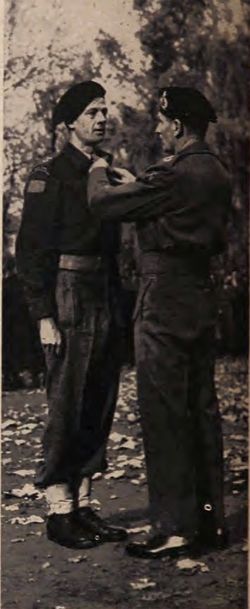 Don Ayer wasn't very widely known outside of the Second Batt. He was one of those who wasn't sure about the Navy in those uncertain days in 1934 and decided to try it on the outside. Those who stayed in and many of those who didn't probably lost track of Don after graduation. They did not know that in July of 1940, when the people of the U. S. hadn't made up their minds yet about fighting, Don joined the Canadian Active Service Force in order to get in the fight. Characteristic of his unassuming nature Don did not ask for a commission but joined as a Trooper. Later on he was promoted to Sergeant and, after being sent overseas he was graduated from Sandhurst and was commissioned a Lieutenant.

When the invasion came, Don got his wish to get in the thick of it. In the accompanying picture he is shown receiving the Military Cross from Marshal Montgomery for gallantly in action, with the following citation: "On 14, August, 1944, during the attack across the River Liaison, under direct enemy fire, recaptured a crossing of the river near Montboint for his entire squadron and then pushed forward with his section of 6 Carriers to the high ground at point 160 (1444) and although by this time severely wounded by MG fire through the chest, refused to leave the ground until his small force was organized to hold this vital point. This action relieved the entire crossing from observed fire and directly influenced the successful crossing of the entire Regiment."

After convalescing from his wounds Don again returned to his regiment in the front lines. In March of 1945 his luck ran out. Quoting from a letter from his commanding officer: ". . . B squadron was ordered to patrol to a little town called Sonsheck near the western bank of the Rhine in Germany. Donald's troop was chosen to do it and, as was typical of him, he led the patrol himself. As they approached the objective the patrol came under enemy mortar fire. They took to the ground. When the mortar fire lifted Donald saw that one of his men was sorely wounded and told the rest of the patrol that he was going to get him. As he proceeded to do so a German sniper fired at him. He died instantly . . . Donald Holman Ayer, a fine gentleman and a gallant soldier, will hold a high and honored place in the annals of the history of this Regiment."

Those of us who were shipmates with him from 1930 to 1934 knew him to be generous, unassuming, straightforward, a good companion and one whose name we hope will not soon be forgotten.
Donald is one of 41 members of the Class of 1934 on Virtual Memorial Hall.