DONALD S. SCHEU, LCDR, USN
From USNA Virtual Memorial Hall
Lucky Bag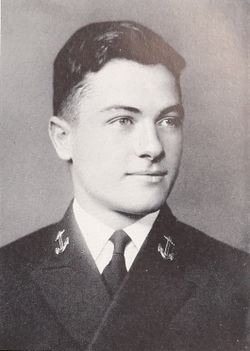 From the 1940 Lucky Bag:
DONALD STONE SCHEU

Buffalo, New York

A love of sailing and blue water brought Don to the Naval Academy from the shores of Lake Erie. Born with a tiller in his hand, he early demonstrated his superior nautical ability by winning the Thompson Trophy sailing race Youngster year. Anything from a washtub to an oyster boat moves faster and more dexterously with Don at the helm. A constant booster of sailing here at the Naval Academy, his ambition is to abolish afternoon classes to get in more racing before the evening calm. Don gives the Navy an officer whose academic knowledge is grounded in a keen sense of practical seamanship.
Loss
Don was lost when USS Scorpion (SS 278) was sunk sometime after January 5, 1944.
His parents were listed as next of kin.
Silver Star
From Hall of Valor:
The President of the United States of America takes pride in presenting the Silver Star (Posthumously) to Lieutenant Donald S. Scheu (NSN: 0-85047), United States Navy, for gallantry in action while serving as Gunnery Officer aboard a United States Submarine during war patrols in enemy-controlled waters during World War II. Lieutenant Scheu performed his duties courageously and with expert skill, thereby contributing to the sinking or damaging of many thousands of tons of enemy shipping.

General Orders: Bureau of Naval Personnel Information Bulletin No. 329 (August 1944)
Rank: Lieutenant
He was also apparently awarded the Bronze Star medal; unable to find this citation.
Wartime Service
It's possible to get a sense of some of Donald's experiences from his signature as Officer of the Deck in Scorpion's deck log.
Memorial Hall Error
Memorial Hall lists him as a LT, but multiple other sources have him as a LCDR. On Eternal Patrol states "Donald was posthmously promoted to Lieutenant Commander on October 17, 1944."