DOUGLAS D. VAUGHAN, LTJG, USN
From USNA Virtual Memorial Hall
Date of birth: April 17, 1944
Date of death: May 20, 1969
Age: 25
Lucky Bag
From the 1966 Lucky Bag:
Shipmate
From the September-October 1969 issue of Shipmate:
Lt.(jg) Douglas D. Vaughan, USN, died on 20 May in the Third Field Hospital at Saigon, South Vietnam, as the result of wounds received on 22 April when the vehicle in which he was a passenger was ambushed, by the enemy.

Lt.(jg) Vaughan was born in Chicago, 111. and was graduated from the Naval Academy with the class of 1966. A member of the Thirty-fourth Company at the Academy, he participated in wrestling and with an interest in Russia was a member of the Foreign Relations Club. Lt.(jg) Vaughan served in the USS RADFORD, and while in Vietnam was attached to the Chief Naval Advisory Group.

Survivors include his father Mr. Leslie W. Vaughan, Sr. of 5158 W. George St., Chicago, Ill. 60641, and his mother Mrs. Garnet L. Vaughan and sister Garnet, both of 1215 N. Waterman Ave., Apt. 2F, Arlington Heights, Ill. 60004.
Obituary
From Wall of Faces:
I offer my eulogy to honor Doug's memory. Before Annapolis and the US Navy, Doug was already the Best.

We were best friends at Prospect High School for 4 years. I met Doug the first day of high school while riding the Athletic Bus home after football practice. Doug and I both lived at the far end of the school district, so we were the last two guys to get off the bus at 6:30pm. We just started talking on that bus ride, and we became best friends, like others, for the next four years.

However, Doug was also everyone's friend and vice versa. Recalling the days at Prospect HS, Doug's memory glows on brightly. Without the slightest bit of ego, pomp or arrogance, Doug was the most respected, well-liked, and popular guy in our class; an excellent student and a great athlete winning letters in 4 sports. Of special importance, Doug was Illinois high school state champion caliber wrestler (133 lb. weight class) his junior & senior years; really strong, quick, tough as nails and super aggressive. Doug pinned nearly every opponent his senior year. Doug was undefeated and wrestled in the 1962 state final 133 lb. match vs. another undefeated wrestler from downstate. We just knew Doug would win - no one came close to beating him all year. But the other guy won the match 29-27. It was one of greatest matches of all time in amateur wrestling. If you know amateur wrestling, a match score of 2-1 or 3-2 is typical in matches between two really good, equally matched wrestlers - but not that day. Doug and his worthy opponent had a championship match with non-stop action: take downs, escapes, reversals and near pins - a thrilling cliffhanger with a dozen lead changes. Doug did not lose that day, the other guy won, as I learned when I went to the locker room to talk with Doug after the close match. I expected Doug would be down after such a disappointing loss, but he was really OK and honestly critiqued the match like he was discussing a difficult math problem. Doug said "I was the aggressor and took him down again and again, but he always escaped or reversed me. I could not keep control of him." Honest with no excuses; Doug gave his best but the other guy won, and Doug gave his opponent credit - that's Doug. One more point, amateur wrestling is set up in weight classes in effort to keep the contestants on equal basis. Doug was a natural 150 lbs. and lost weight down to 133 lbs. to wrestle at his lowest weight while still retaining his strength(all wrestlers except heavyweight do this). Several times during the season to spice up wrestling practice with some fun stuff, the coach allowed the first string guys to wrestle each other no matter what weight if both guys agreed. Doug tried wrestling all the heavier guys, 145, 156, 165, 180 lb. and heavy weight and won the fun matches vs. all of them except for the 180 lb and heavyweight who were too big and strong. Doug was a really strong, tough son of a gun with guts to spare.

Off the athletic field, Doug was an eager student full of intellectual curiosity, and we were in most of the honors classes together. Doug went out on his own and took 4 years of Russian - talk about a tough language to learn (a different alphabet with 22 letters, I think). Doug was elected Class of 1962 President for 3 years and was elected President of the Student Council our senior year. Take my word, Doug achieved these honors while being one of many high quality students at Prospect High, as we lived in an excellent suburban Chicago school district. I must comment: In today's world a person driven to win elections is often motivated by a private agenda on an ego trip, but not Doug. As everyone who knew Doug would agree, Doug was a giver, not a taker.

Though we were best friends, classmates and fellow athletes, I did not participate with Doug in the student government leadership till our senior year. It never crossed my mind before then. Our senior year Doug decided to run for Student Council President after being our Class President for 3 years, and I asked him why. He told me how important it was to be involved doing things with and for the other students; and Student Council members also interface with other Student Council members from other high schools. Doug said it was exciting and fun, then he said to me, 'There are 4 elected positions and there is not a really good candidate for Treasurer. You should run for it.' I was totally surprised and said 'It is a school wide election and I cannot believe anyone would vote for me.' Doug told me I was wrong; he said everyone knew I was an excellent student, a letterman on sports teams, and had the qualifications. He was sure I would win if I ran. And, I was elected. Could not believe it at first, but I quickly learned to enjoy the honor and recognition of student government and leadership. Deep down I knew my election was partly due to the fact that everyone knew Doug and I were friends and it helped to have Doug's coat tail to hang onto. My group leadership skills began with this event, because of encouragement from my friend Doug.

Doug and I both applied for the appointment to Annapolis (we were attracted to the US Navy from the Victory at Sea series, so popular back then). Doug got it, but I earned a NROTC scholarship, so we both headed to college via the US Navy. We were commissioned in 1966; Doug went to Pacific Fleet and I went to Atlantic Fleet. We kept in touch by letters during college and while in the Fleet. I was going to reunite with Doug in person after 6 years since high school, as I got my orders to Vietnam in June 1969 to join DaNang Security in I Corps near Doug's base. We would have about one week to get together between my arrival in country and Doug's scheduled flight out - back to the world. However, just before I left stateside for Vietnam I got the phone call from my Dad telling me Doug had died from gunshot wounds he suffered during an ambush. That phone call changed many lives: mine, his family's, and Doug had plans to marry. Though this is about Doug, there I was - heading to the very same place where my old friend and the 'toughest guy' I ever knew, just got killed. Oh my God!

I learned Doug requested burial at sea during his last days. That was so like Doug, gung ho to the end. When I finished my tour in Nam, I went home for a week and visited Mrs. Vaughan my first day back. She was stoic when I talked with her about Doug's death and burial at sea. Holding back her tears, she told me "I knew how much Doug loved the Navy, and I had to honor his last request." It must have made her heart weak even worse, not having Doug's grave to visit.

Doug was a close, faithful friend in high school, as he was with others at Annapolis and in the Fleet. But we grew up together during those days at PHS, and that makes our time together special for me. Honest, sincere, full of integrity, cheerful and fun to be with, and a Christian - Doug Vaughan was the Best. I became a better person for knowing Doug.

It has been 40 years now, and with all the problems in the world getting worse every day, I will never understand why the Brightest Light from Prospect Heights, Illinois went out on May 20, 1969. Why God? Men like Doug are needed here so much. JOHN KRAUSE, LT. USN, JKRS1234@GMAIL.COM, 12/12/12
He was survived by his fiancée, Laurie Gehm Beavers (name as of June 2009 posting); parents Mr. & Mrs. Leslie W. Vaughan; a brother, Leslie W. Jr.; a sister, Garnet; and a grandmother, Mrs. A. O. Kerstetter. Doug was buried at sea from USS Radford (DD 446).
Note: Virtual Wall has the incident date as April 22, nearly one month before his death on May 20, 1969.
He has a memorial.
Remembrances
From Wall of Faces::
hello sweetheart

Doug and I were engaged in Hong Kong the Christmas before he was wounded. We had known each other for seven years, and were dear friends as well as lovers. He was an amazing man, who will always be missed. LAURIE GEHM BEAVERS, 6/26/09
Doug, we graduated from high school together and last met when we were both in college as fourth classmen, Christmas 1962. You were at the Naval Academy, I was at The Citadel. I knew then the Navy could have no better officer than you would become. Your bravery will always be remembered. God bless. DOUGLAS R. CANNON, DRCANNONLAW@SBCGLOBAL.NET, 4/26/06
I had the honor to serve with Doug on the USS Radford DD446 during the Vietnam War. Doug showed great leadership and was always trying to help the enlisted men to do a better job to make our ship one of the most decorated Destroyers in the Navy. I was there when we buried Doug at sea, and that day has always stayed with me. Years passed and I heard from one of Doug's classmates (USNA-1966) that before he died he asked to have his class ring placed on his hand. I hope the ring is still with him. I know he would have been a "Flag Officer" if God would have permitted it. He will always be remembered by me and all who knew him. DAVID ROE, 12/29/02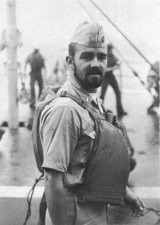 I served with LTJG Vaughan onboard USS Radford (DD-446) during the mid-1960's. He was a pretty savvy watchstander; I got to see 'um all, as I was the acting LQM on the Bridge. I heard of his demise from an old shipmate in early 1970 in Hawaii, while I was on leave enroute to my Incountry Vietnam tour. Heard about his burial at sea from the best Destroyer and one of its great crewmembers. QMCM (SW) RON BAY, USN (RET), 5/31/02
I served with Doug in USS Radford DD-446 and shared a state room with him in my first deployment to Westpac. He was a great friend. He had an infectious sense of humor that enabled all of us to get through difficult times. He was dedicated to the Navy. MIKE MARTIN, 5/23/01
Doug Vaughan and I were friends and classmates at the US Naval Academy (Class of 1966). He was an outstanding person and exhibited leadership and love of his fellow man. We served in close proximity in Vietnam and saw each other frequently. There, he maintained his characteristic cheerfulness and style. His command of their language brought warm smiles to the faces of everyday Vietnamese. KINCHEN SEARCY, 4/24/01
I met Doug when he was attending Young Life Camp in Colorado in the year 1962. He gave his life to Christ during that time, and I gave my heart to him. After all these years, I still treasure the memories of a most honorable, and godly man. I miss you Doug, but I know you are in the company of angels. Susan SUSAN HILDEBRAND, 2/10/01
I served with Ltjg Vaughan on board the USS Radford DD-446.

We had many occasions to talk. Stood watches together. We were proud to be on the Radford. He always showed a wonderful spirit about him and respected his men.

When it came to questions regarding Gunnery and especially Shore Bombardment, he would not hesitate to discuss them with me. I was the Chief Fire Control Technician of the Ship.

I heard about his death years ago; perhaps via the Navy Times.

I have thought of him often.

There is no doubt that he was "Flag Officer" material. JOHN CHARTIER CWO3, USN, RETIRED (JULY 1, 1978)----(65-67 ON DD446), 9/25/00
Doug was Assistant Senior Advisor at Coastal Group 16. He was a delight, both personally and professionally. Although CG 16 was considered a very dangerous outpost, he volunteered for the job. He worked hard on his language skills -- he knew five of the six meanings of "sau" -- took great pictures, and made a diligent effort to gain the confidence of the Vietnamese. He was mortally wounded in an ambush near Quang Ngai City and died several days later in hospital at Danang.

Bright. Articulate. Hard working. And a real loss. S. M. HARRIS, 8/10/00
A great naval officer. JOHN ROBERTS, 4/30/00
Douglas is one of 36 members of the Class of 1966 on Virtual Memorial Hall.
The "category" links below lead to lists of related Honorees; use them to explore further the service and sacrifice of the alumni in Memorial Hall.