Difference between revisions of "DOUGLAS S. MAYFIELD, LT, USN"
From USNA Virtual Memorial Hall
m

m (1 revision imported)

 

Line 10:
Line 10:
 
 
 

== Obituary ==

 

== Obituary ==

−

[[File:1956 Mayfield 1.jpg|right|thumb|250px|none|From the November 1965 issue of SHIPMATE.]]

+

[[File:1956 Mayfield 1.jpg|right|thumb|250px|none|From the November 1965 issue of .]]

 

From [http://www.usna56.org/mayfieldds.html USNA '56:]

 

From [http://www.usna56.org/mayfieldds.html USNA '56:]

 

<blockquote>

 

<blockquote>
---
Latest revision as of 11:48, 5 June 2019
Douglas Mayfield '56
Date of birth: February 7, 1932
Date of death: June 11, 1965
Age: 33
Lucky Bag
From the 1956 Lucky Bag: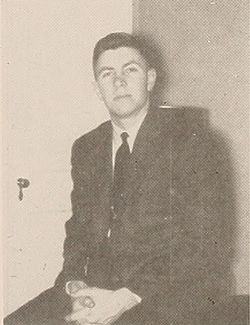 Obituary
From USNA '56:
Doug Mayfield was recognized as a leader from the moment he entered the Academy. At that point, he was three years out of high school in California, including a year at Sacramento Junior College, a year working, and a year in the Fleet. At Navy, he proved his leadership abilities as a striper, serving as 6th Battalion Commander and 21st Company Commander.

Naval aviation called Doug to a career as a jet pilot. He added to his academic achievements by earning a degree in aeronautical engineering at PG School, Monterey.

Tragically, Doug's life and career were cut short in an A4-C Skyhawk aircraft accident while on a test mission at China Lake, California on 11 June 1965. A fellow pilot's remarks attested to his qualities: "His ability as a project pilot was hard to equal. He was an outstanding aviator and officer." Doug and his wife Millie have a son Michael and two daughters, Sydney and Kimberlee. Millie, remarried, lives in San Diego.
From China Lake Alumni:
Doug Mayfield was a native of Sacramento, California where he was graduated from high school in 1950. After high school Doug enlisted in the United States Navy. A year later Seaman Apprentice Doug Mayfield received a fleet appointment to the United States Naval Academy and was graduated with the 1956 Naval Academy class.

Following his June 1956 graduation from Annapolis ENS Mayfield chose Naval Aviation and reported to Pensacola, FL.for flight training in August 1956 after which he reported to Corpus Christi, TX for jet training in July 1957.

After being designated a Naval Aviator, Lieutenant Junior Grade Doug Mayfield served a fleet tour with FAWTUPAC/VF(AW)-3 in Coronado, CA.

LTJG Mayfield then served a fleet tour with the VA-113 Stingers in Miramar, CA in 1960. LT Mayfield then served a August 21, 1961 to October 1, 1962 tour with the VA-134 Scorpions in Jacksonville, FL.

LT Mayfield next attended the United States Navy Postgraduate School at Monterey, California where he was awarded his Bachelor of Science Degree in Aeronautical Engineering. LT Mayfield reported to NAF China Lake on 29 June 1964 from the Postgraduate School.

LT Mayfield was assigned duties as a China Lake Project Pilot. At China Lake Lt. Mayfield was elected to a two-year term to the Commissioned Officers Mess Advisory Group. He was also a member of the Community Council. His fellow officers held Mayfield in high esteem - - - "His ability as a Project Pilot was hard to equal. He was an outstanding aviator and officer," a fellow pilot said.

LT Douglas Stuart Mayfield died Friday, 11 June 1965, when his A-4C Skyhawk (BuNo 148524) crashed while on a photo chase mission over the Naval Air Facility "B" Range. The mission was to film a Walleye test from release to impact using a camera mounted on one of the external racks. This accident was captured on film by ground cameras that also were filming the test. Several China Lake plane captains and project team members viewed the ground camera film and relate the accident: Within seconds of the Walleye striking the intended radar trailer target, Lt. Mayfield's Skyhawk was struck in the starboard wing by debris (a wheel) from the target. The Skyhawk pitched slightly nose up and yawed left and almost immediately the starboard wing broke off. The wounded Skyhawk rolled 360 degrees in the direction of the missing wing and impacted the ground. The entire accident took about 4 to 5 seconds from debris becoming visible in the flight path to the ensuing fireball and large scorch mark on the "B" Range desert surface. When the smoke and dust cleared the only recognizable wreckage was the wing that broke off. Doug was 33 years old and was survived by his wife and three children, a son and two daughters. His father, mother, three brothers and a sister also survived Lt. Mayfield.
Class of 1956
Douglas is one of 26 members of the Class of 1956 on Virtual Memorial Hall.