EDWARD R. HOLT, JR., LCDR, USN
From USNA Virtual Memorial Hall
Lucky Bag
From the 1939 Lucky Bag:
EDWARD ROWELL HOLT, JR.

CHARLOTTE, NORTH CAROLINA

Skillet

Through the bustle of his four years at the Naval Academy, Skillet has shown effort and energy of which he should be proud. He is easy-going, but not lazy, and when there is reason for hurry, Skillet can show speed that is surprising. He thinks nothing of being in the shower at formation time, for dressing in two minutes is easy for him—he can do it without losing one bit of his Southern dignity. All of us have seen Skillet's art work—many of us have had him draw personal illustrations that only his sense of something could comprehend. Skillet combines an energetic, jovial personality with a great sense of humor in such a way that making friends is the inevitable result.

Soccer 4, 3, 2, 1; Track 4; Class Crest Committee; Art Editor, Reef Points; Log Staff 4, 3, 2, 1; Make-up Gang 3, 2, 1; Art Club; 1 Stripe.
Loss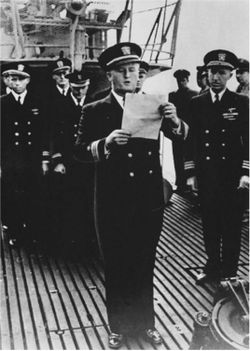 Edward was lost when USS Bullhead (SS 332) was sunk, probably by Japanese aircraft, on or around August 6, 1945, in the Java Sea. He was only a month past his 30th birthday and was said to be one of the youngest submarine skippers in the Navy. He had made ten previous patrols.
He is discussed extensively in Overdue and Presumed Lost: The Story of the USS Bullhead by Martin Sheridan.
His career and loss is also recounted on the Clemson Alumni site; he majored in architecture and left after his sophomore year.
His wife was listed as next of kin.
Several sites claim he was awarded the Navy Cross, but unable to find a citation and he is not listed with other recipients. Both of these facts are highly unusual for this award. There is no mention of the award in contemporaneous reporting, either, nor in an article about Bullhead from 1981.