ERNEST J. EHLERS, LCDR, USN
From USNA Virtual Memorial Hall
Ernest Ehlers '59
Date of birth: September 27, 1935
Date of death: April 3, 1969
Age: 33
Lucky Bag
From the 1959 Lucky Bag:
Loss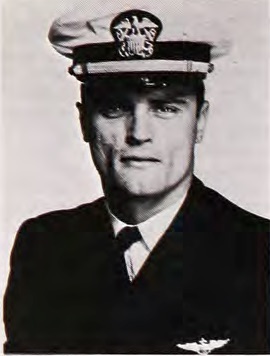 From the July-August 1969 issue of Shipmate:
LCdr. Ernest J. Ehlers, USN, died 3 April in an aircraft accident near Luray, Va. Memorial services were held in the Chapel of the Good Shepherd, Oceana, followed by interment in Arlington National Cemetery, with full military honors.

LCdr. Ehlers was born in Pottsville, Pa., attended Wyoming Seminary, Kingston, Pa., and enlisted in the Naval Reserve in 1953; he was graduated from the Naval Academy with the class of 1959. He received his wings in Dec. 1960 at New Iberia, La., and a Bachelor's degree in aeronautical engineering from the Naval Postgraduate School in 1966. His assignments included training with Air Anti-Submarine Squadrons 30 at Key West, Fla., and 31 at Quonset Point, R.I., and with Attack Squadron 42; he also served as project officer in the Office of Naval Research. Stationed at the Naval Air Station at Oceana, LCdr. Ehlers was attached to Attack Squadron 35 at the time of the accident.

Survivors include his widow Joanne of 3604 Prince Andrew Lane, Virginia Beach, Va. 23452; a son John Ernest; three daughters Mary, Judianne and Charlene; his parents Mr. and Mrs. Ernest H. Ehlers of 1262 Mt. Hope Ave., Pottsville, Pa. 17901, and two brothers Allan and Bernard Ehlers.
He is buried in Arlington National Cemetery.
Remembrances
From Tom Lukish '59 at the class memorial service at the 59th Class Reunion, October 5, 2018:
Ernie Ehlers began his walk with us from his home in Pottsville, PA, not too far from where I grew up. We played football against each other before we became football teammates at the Academy. We became close friends over the next four years. We graduated and we both went to Pensacola to begin Navy flight training. I have many memories of our time together in Pensacola. But one of the nicest was while we were there Dolores and I bought our first piece of furniture together, it was an end table that cost $25, a lot of money back then. What makes this memory so special, is that we had an Army/Navy football game party at our house. It was at that party that someone put a glass on the new end table and it caused a water mark. Ernie said don't worry Tom I can fix it, and the next day he came to our house and he worked on that mark and he did fix it. I will tell you a little more about this end table in a minute.

Years passed it was now 1969 and Ernie was now stationed at Oceana Naval Air Station, Virginia Beach and flying the Grumman A6 Intruder Attack Bomber. He was schedule to fly a low level training flight on April 3, 1969. His daughter Judianne was to celebrate her 6th birthday on April 3rd, so the night before his flight Ernie baked her birthday cake, so that they could celebrate her birthday when he came home the next day. Ernie never came home, on April 3rd flying in the Shenandoah mountains of Virginia, his A6 hit an uncharted hill and both he and his flight officer were killed. He never got to celebrate Judianne's birthday that day. Ernie left his wife Joanne, and four children ages 8, 6, 4 and 1. Ernie Ehlers was 32 years old.

We still have that end table, it is worn and tattered now it is in a corner at the entrance door to our home. I pass it every day when I come and go from our home. It is mainly used for storage now, and once in a while if I ask my wife where something is, she will say it is on Ernie's table. Even though I bought the table is now Ernie's table. My kids know the entire story behind that end table near our door, and they have told me don't worry Dad that table will never leave our family.
(Thanks to Mrs. Elaine Stout, wife of Pete Stout '59, for providing this portion of the memorial service.)
Related Articles
Badger Smith, III '59 was also in 19th Company.
Class of 1959
Ernest is one of 32 members of the Class of 1959 on Virtual Memorial Hall.
The "category" links below lead to lists of related Honorees; use them to explore further the service and sacrifice of the alumni in Memorial Hall.