FRANK E. LIETHEN, JR., MAJ, USAF
From USNA Virtual Memorial Hall
Lucky Bag
From the 1953 Lucky Bag:
Loss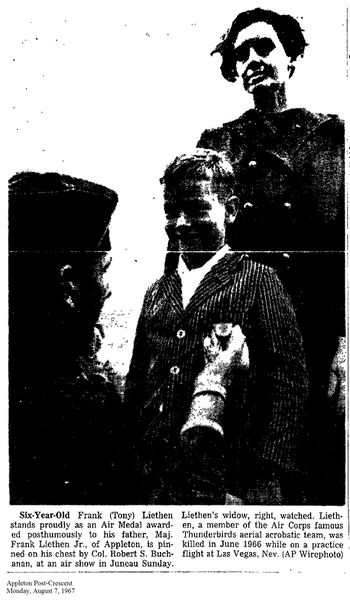 From The Daily Telegram of Eau Claire, Wisconsin, on October 13, 1966:
Maj. Frank E. Liethen, 36, one of two members of the Air Force's Thunderbird exhibition flying team killed Wednesday, was a native of Appleton who embarked on a military career after graduating from Appleton High School in 1948. Liethen joined the Air Force and was discharged in 1949 in order to attend the U.S. Naval Academy at Annapolis. Liethen rejoined the Air Force after graduation in 1953, and in 1961 was an instructor at the Air Force aerospace research pilot school in California. His father, Frank Sr., was president of the Liethen Corp. here until his death in 1955. His mother still lives here. Liethen, who was married, was executive officer of the Thunderbirds and was in line to become commander.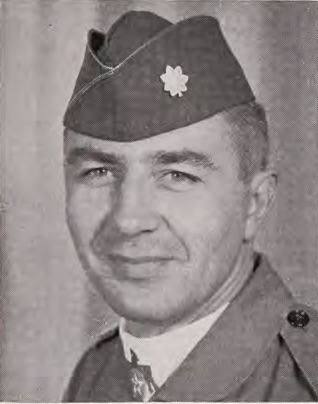 From the January 1967 issue of Shipmate:
Maj. Frank E. Liethen, USAF, was killed on 12 Oct. in the collision of two planes over the desert near Indian Springs Air Force Station, Nev. The accident occurred when Major Liethen, the executive officer of the Thunderbirds, famed precision exhibition planes, was piloting an F-100 super sabre jet in practice maneuvers. Services with full military honors and interment were at the Fort Logan National Cemetery, Denver.

Maj. Liethen, a native of Appleton, Wis., was graduated from the Naval Academy in 1953 and commissioned in the U. S. Air Force. He completed pilot training at Marana Air Force Base and Williams AFB, Ariz., and F-86 gunnery training at Nellis AFB, Nev. He was then assigned to the 494th Fighter Bomber Squadron at Chaumont Air Base in France, where he flew the F-86 and F-100 for three years.

He received his Master's degree in electronics in 1959 from the Air University at Wright-Patterson AFB, Ohio, and remained there for duty as fire control system engineer in the F-105 system program office.

In 1961 he was selected to attend the USAF Aerospace Research Pilot School at Edwards AFB, Calif., and was chosen outstanding pilot and overall student in his class. After a year as a project officer in the research and development section of the Fighter Weapons School at Nellis AFB, he returned to the pilot school as an instructor. While there he flew an F-104 Starfighter modified with a rocket engine to an altitude of 108,000 feet. He reported for duty with the Thunderbirds in December 1965.

Surviving are his widow, the former Charlotte McFadden of Lyons, Colo., and four children, Robin, Laura, Gretta and Tony.
He is buried in Colorado.
Other
Frank was a graduate of the USAF Experimental Test Pilot School.
Frank is one of 62 members of the Class of 1953 on Virtual Memorial Hall.
The "category" links below lead to lists of related Honorees; use them to explore further the service and sacrifice of the alumni in Memorial Hall.