FRANK E. LIETHEN, JR., MAJ, USAF
From USNA Virtual Memorial Hall
Lucky Bag
From the 1953 Lucky Bag:
FRANK ELMER LIETHEN, JR.

Appleton, Wisconsin

When "Elmer" was asked why he didn't stand first in the class . . . '"Somebody scotch-taped my skinny book shut." This handicap didn't prevent him from considering academics just a minor hazard in his path to graduation. When he was not out on the field squashing some poor unfortunate individual under his monstrous frame, he could be found comfortably curled up over a pool table in Smoke Hall, wishing he had a good bottle of beer to keep him company. The frap for skylarking was without doubt made up ex- pressly for Frank, but it didn't faze him aT all; he's headed for the Air Force after graduation.
Loss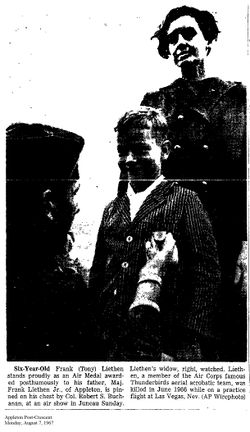 From The Daily Telegram of Eau Claire, Wisconsin, on October 13, 1966:
Maj. Frank E. Liethen, 36, one of two members of the Air Force's Thunderbird exhibition flying team killed Wednesday, was a native of Appleton who embarked on a military career after graduating from Appleton High School in 1948. Liethen joined the Air Force and was discharged in 1949 in order to attend the U.S. Naval Academy at Annapolis. Liethen rejoined the Air Force after graduation in 1953, and in 1961 was an instructor at the Air Force aerospace research pilot school in California. His father, Frank Sr., was president of the Liethen Corp. here until his death in 1955. His mother still lives here. Liethen, who was married, was executive officer of the Thunderbirds and was in line to become commander.
Frank was killed when his F-100 SuperSabre collided with another on October 12, 1966.
Other
Frank was a graduate of the USAF Experimental Test Pilot School.