GEORGE F. RICHARDS, LT, USN
From USNA Virtual Memorial Hall
Lucky Bag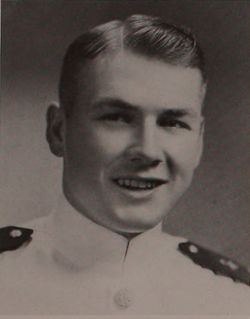 From the 1947 Lucky Bag:
George Frank Richards, Jr.

Olton, Texas

George is characteristically Texan. The "touch of Texas in his walk" has bewildered the less imaginative who are forever looking for nonexistent gopher holes. He spends a great deal of time in heated arguments concerning the virtues of his home state. Cactus has an insatiable appetite for movies, and rarely misses a liberty on any account. His ability with the guitar attracts many to his nightly sessions, making life miserable for his roommate. A versatile athlete, he has busied himself mainly with basketball and baseball, winning minor letters in both. Conscientious, quiet—certainly not garrulous—Rich commands the respect of everyone.
The Class of 1947 was graduated in June 1946 due to World War II. The entirety of 2nd class (junior) year was removed from the curriculum.
Life & Loss
Unable to find any information about George's life or loss. He is buried in California.