HAL C. CASTLE, JR., LTJG, USN
From USNA Virtual Memorial Hall
Lucky Bag
From the 1967 Lucky Bag:
Loss
From the July-August 1969 issue of Shipmate:
Lt(jg) Hal C. Castle Jr., USN, was killed in action on 28 April when the helicopter gunship he was copiloting was shot down near Mor Hoa, South Vietnam. A memorial service was held in Park Place United Methodist Church, Norfolk, Va.

Lt(jg) Castle was born in Washington, D. C, attended Norfolk Academy and was graduated from the Naval Academy in 1967. He had flight training at Pensacola, Fla., and was designated a naval aviator in Nov. 1968. After further training, Lt.(jg) Castle reported to Helicopter Attack Light Squadron Three at Vung Tau, Vietnam, in March.

He is survived by his widow Julia of 160 Hawthorne Dr., Danville, Va. 24541; his parents Capt. Hal C. Castle Sr., USN '44, and Mrs. Castle of 153 Chester St., Norfolk, Va. 23503; two brothers William of the University of Virginia and Christopher, USNA '72; a sister Katherine of Mary Washington College; his maternal grandparents Mr. and Mrs. W. V. Shelton of Washington, and his paternal grandmother Mrs. Helen M. Castle of San Gabriel, Calif.
From Wall of Faces:
Crew members included LJG Richard J. Reardon (KIA), AO3 Michael E. Schafernocker (KIA), LJG Hal C. Castle Jr. (KIA), and AN James B. Page Jr. (Rescued). There are two accounts of the crash involving U.S. Navy helicopter UH-1 tail number 63-08603.

FIRST ACCOUNT: LTJG Richard J. Reardon was a pilot assigned to Helicopter Attack (Light) Squadron 3, Detachment 3 'Seawolves' in Vietnam. He flew the UH1B 'Huey' attack helicopter gunship with his co-pilot LJG Hal C. Castle, and two enlisted gunners. On April 28, 1969 the Detachment 3 fire team was based at the Special Forces Camp, Moc Hoa, and sent on a patrol of the Vam Co Tay River. This location is in Kien Tuong Province, right on the Cambodian border. The river was notorious as a Viet Cong infiltration route and a large number of abandoned sampans were targeted. During the attack run, intense enemy fire was encountered and suppression fire was called for. LJG Reardon was seen to impact in a near-vertical crash and become engulfed in flames. One enlisted crewman was either thrown from or crawled clear of the wreckage and was later rescued by the lead helicopter only after engaging heavy ground fire. With the crash circumstances as they were, and the visual consensus of other helicopter crews in the flight, there was little to no likelihood that anyone else could have survived. The crew, including Reardon, was listed Killed in Action. In later recovery attempts, the remains of two crewmembers, including Castle's, were recovered. Reardon's remains were [recovered in 2003].

SECOND ACCOUNT: The Seawolves did lose a Huey on this day. It was from Detachment 3 and was Seawolf 320, a UH-1B or C. While operating inside Cambodia it was hit by heavy auto weapons fire and crashed. Killed in the crash were the pilot, LTJG Richard Reardon, the copilot, LTJG Hal Castle, and the gunner, AO3 Michael E Schafernocker. The crew chief, AN James B. Page, Jr. was severely injured. The second team member, Seawolf 305 was hit in the engine oil system and made a forced landing near the wreck of Seawolf 320. They recovered Page under fire and held out to be picked up by a slick from the 175th AHC, Outlaw 29, after several attempted landings. While taking off, the pilot of Seawolf 305 was shot by ground fire and killed. He was LJG Joseph F. Hart. A crewman observer also rescued (AN Charles Larsen) was seriously wounded on take-off as well. Location of this incident was approximately Grid XS153986. The bodies of LtJg Castle and AO3 Schafernocker and a third body were returned by Cambodian officials on 20 Feb 70. The third body was not identified at the time. (Second account submitted by Pete Harlem) [Taken from vhpa.org]
He has a memorial in Arlington National Cemetery.
Remembrances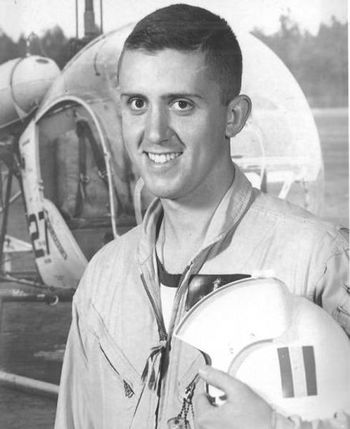 Charles "Skip" Cannady '67 on May 27, 2020:
As members of the 35th company, tucked away on the third deck of the eighth wing, we were as far away from the main office as we could be. That led to some interesting activities with little chance of being apprehended and placed on report. My roommate, Frank Rook, had purchased fifty feet of dynamite fuse, so we decided to play a joke on Hal. We used an empty roll of toilet paper tube to fashion a fake bomb. Stuffing it with some rags to add weight, we taped the ends and stuck a piece of fuse in the middle. Hal was at his desk studying as we lit the fuse and rolled our fake bomb under his chair and ran. We entered his room a few minutes later as Hal was at the sink tearing our bomb apart under water. He said that he knew it was fake all along. He had thrown a blanket over it as it rolled into his room. Little did we know that two years later, he would lose his life in Vietnam. He and his wife, Julie, were good friends. I think of him on 28 April and every Memorial Day. A good man lost way too soon.
From the Class of 1967's 50th Reunion Yearbook, courtesy of William Belden '67:
Hal Cushman Castle, Jr. was born May 20, 1945, when his parents lived in the Washington, DC area. Hal's father graduated from the U.S. Naval Academy in 1943. His mother, prior to her marriage, lived with her family in Chevy Chase, Maryland.

U.S. City Directories placed the Castle family in Newport, Rhode Island in 1946; Annapolis, Maryland in 1949; and in Norfolk, Virginia in 1959. The 1960 U.S. City Directory listed the Castle residence at 3734 Jocelyn NW, Washington, DC, which was also the home of his mother's parents. For a time the Castle's also resided at the Naval base in Dahlgren, Virginia.

For the most part Hal's teenage years were spent in Norfolk, Virginia where he graduated from the Norfolk Academy. A family friend indicated that back then he as referred to as "Chip". In 1967 Hal graduated from the U.S. Naval Academy and married Julie A. Fink, his high school sweetheart. She was the daughter of Rev. Harold Hanger and Evelyn (nee Williams) Fink.

Hal followed in his father's footsteps and was a helicopter pilot during the Vietnam War. Lieutenant Junior Grade Castle began his tour in Southeast Asia in February 1969, assigned to the Helicopter Attack Squadron 3, Detachment 3, where he piloted a UH-1B (Huey) Helicopter. On April 28, 1969, LTJG Hal C. Castle, Jr. was killed-in-action when his helicopter was shot down by hostile fire on the Vam Co Tay River near or in Cambodia. The remains of Hal and fellow crewmen were turned over by Cambodia authorities to U.S. representatives on February 20, 1970. Hal is interred at Arlington National Cemetery – Section 12, Grave 4460. His father and grandfather are also buried at Arlington National Cemetery. Hal is represented on the Vietnam Memorial at Panel 26W, Line 069.

The Castle family has a unique distinction. During Vietnam there were four Castles on Active duty - Hal Cushman Castle, Sr. (USNA '44), Hal Cushman Castle, Jr. (USNA '67), Bill Castle, (NROTC Univ of Virginia '69), and Christopher H. Castle, (USNA '72).
From Wall of Faces:
Chip and I were in Pensacola for 2nd class Summer flight orientation. I remember his calm enthusiasm for flying. I was deeply saddened by news of his death, which came before my my three tours on the ground and waterways of Vietnam, with super Seawolf support in the Rung Sat Special Zone.

God bless you and your family Chip.

Prayers,
Bill Applegate, USNA '67 7th co BILL APPLEGATE, WGAPPLEGATE@GMAIL.COM, 5/25/15
Long ago and far away

I arrived at HAL-3, Det 3 in April of 1969. I met Hal on arrival and he was the one who first showed me around and was helping me to get oriented. I only knew him for a very short time but liked him from the first day. Couldn't believe it when it all happened. Before my first combat flight, I was one of those who had the sad duty of packing up his personal effects to be shipped home. Those kind of memories you never forget. Rest in peace, sir. BRUCE WATTS, HAL-3, DET 3, APRIL '69 TO APRIL '70, 4/25/15
Hal "Chip" Castle, Jr. was my dad's (Bill's) older brother, killed five years before I was born. Their dad (my grandfather, USNA '44), and his three sons (Chip, USNA '67; Bill, University of Virginia NROTC '69; and Chris, USNA '72) all served in Vietnam. I never served in uniform, but passed (along with my father) Chip's memory and our family's naval service to my own son, Riley (USNA '16), who has followed in Chip's, as well as his other great-uncle's and great-grandfather's, footsteps to the USNA. Chip's memory will always be remembered and honored by our family, even by those of us who never had the privilege of knowing him. [Riley had a friend take the attached picture while visiting D.C. last Spring.] BILL CASTLE, JR., 11/1/13
Hal's youngest brother, Chris, and I were classmates from the Naval Academy - Class of 1972. Hal graduated from the Academy with the Class of 1967. He was lost in VN during our plebe year - 1969. We were all saddened for Chris and his family. Hal was a Huey pilot - my recollection is that he was lost in Cambodia during Nixon's secret war. His remains were not returned for sometime, as I recall, and then were interred at Arlington.

Should anyone visit the US Naval Academy and tour the Academy's museum, you will notice a display of all the class rings. If you look closely at the ring from the Class of 1967, you will see that it belongs to Hal - donated to the Academy by his family.

The Castle family have a unique distinction. During Vietnam there were four Castles on Active duty - Hal Cushman Castle, Sr.(USNA Class of 1944), Hal Cushman Castle, Jr.(USNA Class of 1967), Bill Castle, (NROTC Univ of Virginia Class of 1969), and my classmate, Christopher H. Castle, (USNA Class of 1972).

Rest in Peace. ALLEN SZIGETY, ALLEN.SZIGETY@NCR.COM, 6/21/99
Related Articles
John Martin '67 and Michael Smith '67 were also in 35th Company.
Hal is one of 34 members of the Class of 1967 on Virtual Memorial Hall.
The "category" links below lead to lists of related Honorees; use them to explore further the service and sacrifice of the alumni in Memorial Hall.