HAMILTON E. MCDOWELL, JR., 2LT, USAF
Birthdate & Date of Loss
| | |
| --- | --- |
| Date of birth: | December 6, 1927 |
| Date of death: | September 21, 1951 |
| Age: | 23 |
Lucky Bag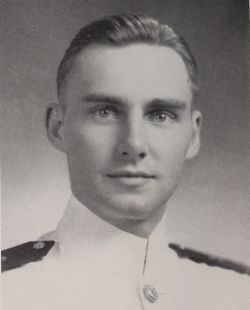 From the 1950 Lucky Bag:
HAMILTON ERWIN MCDOWELL, JR.

Dallas, Texas

Mac was born a Texan, but he lived in New York ("shore was cold") and Florida before he permanently adopted the Lone Star State. He was finishing his second year in Electrical Engineering at Texas A & M College when duty called. Mac likes the water and spent his free time rowing on the Crew Team and sailing yawls in the bay. He holds the distinction of being the only man to put the Big Mo. under attack with a yawl, which is characteristic of Mac—always willing to take on any odds.
Loss
From USNA 1950:
Mac was an all-round athlete as well as an all-round buddy. He played football at Texas A&M and was also a member of the track team. He took basic training at Connally AFB, Waco, TX and advanced training at Chandler, AZ Upon transfer to gunnery school near Los Vegas, he crashed shortly after take off due to monoxide poisoning.
The date of his loss was September 21, 1951; he was piloting a P-80A Shooting Star. Mac is buried in Texas.
Related Articles
James Bowers '50, Wilbur Spradling, Jr. '50, James Wills, Jr. '50, Edward Hotz, Jr. '50, Cedric Peterson, Jr. '50, Lorenzo Daleo '50, George Duncan, Jr. '50, and Christopher Braybrooke '50 were also graduated from pilot training class 51-E, Williams AFB, Arizona, on August 4, 1951. (Sixty-seven Naval Academy graduates completed this class.)