HENRY J. MCGREEVEY, LT, USN
From USNA Virtual Memorial Hall
Date of birth: December 20, 1944
Date of death: August 3, 1970
Age: 25
Lucky Bag
From the 1968 Lucky Bag:
Loss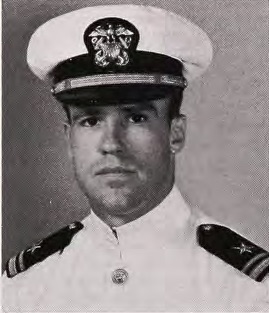 From the November 1970 issue of Shipmate:
Lt. (jg) Henry Joseph McGreevey, USN, died 3 August near Nellis Air Force Base, Nv., as the result of an aircraft accident. Funeral services were held in St. John's Episcopal Church, Worthington Valley, Glyndon, Md., followed by interment there.

A native of Newark, Oh., he attended the Naval Academy Preparatory School in Bainbridge, Md., before entering USNA. While at Annapolis he served as battalion commander and graduated with honors in 1968.

His first assignment was Pensacola. An outstanding student in the Naval Air Training Command, he was designated naval aviator in September 1969. He then received Naval Air Advanced Training at Corpus Christi, Tx. He served in FAETUPAC at North Island, Ca., and VP-31 at Moffett Field prior to his assignment to VP-17, NAS Barber's Point, Hawaii.

Lt. McGreevey is survived by his widow. Rose Tracy, c/o J. W. T. Armacost, Spruce Hill Farm, Hampstead, MD 21074 and his mother.
Henry aboard a P-3A Orion aircraft; the aircraft and crew was over NV for cross-country navigation training.
Previously selected for promotion to LT, he was posthumously promoted. He is buried in Maryland.
Memorial
From GH Spaulding:
On 1 October, 41 family members, friends and fellow squadron mates gathered in Searchlight, Nevada to honor fallen shipmates from VP-17. They observed a new bronze plaque depicting an Orion mounted on a large rock at the local park. The sculpture memorializes the 10 P-3A (ZE.6, BuNo 152159) crew members who perished in a crash in the Searchlight area on August 3rd, 1970. Crew member names are on a separate plaque on the rock.

Crew of ZE-06

LT Timothy D. Bailing, PPC
LT Norman L. Johnson, TACCO
LTJG Henry J. McGreevey, CP
ADJ1 Ambrose Ordonia, FE
ADJ1 Johnny D. Shelton, FE
ATN3 Cletus L. Morrison, RDO
AW3 John D. Maas, ASW
AW3 John W. Schmitz, IV, ASW
AW3 Michael A. Silvera, ASW
AW3 Bruce E. Weaver, ASW
Henry is one of 29 members of the Class of 1968 on Virtual Memorial Hall.
The "category" links below lead to lists of related Honorees; use them to explore further the service and sacrifice of the alumni in Memorial Hall.