HENRY R. HAMNER, LT, USN
From USNA Virtual Memorial Hall
Date of birth: March 13, 1922
Date of death: April 6, 1945
Age: 23
Lucky Bag
From the 1943 Lucky Bag:
Obituary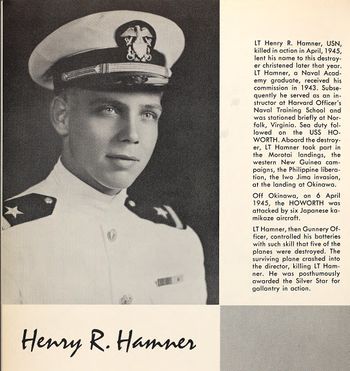 From Wikipedia's entry:
Henry Rawlings Hamner was born 13 March 1922 in London, England. Appointed to the United States Naval Academy from Virginia, he graduated and gained his commission in June 1942. Hamner served to fit out and commission several new ships during the war, in addition to serving in the 12th Naval District and at Norfolk, Va. He was appointed lieutenant in July 1944.
Eight other men were also lost aboard USS Howorth (DD 592) on April 6, 1945 from that kamikaze attack.
He is buried in Arlington National Cemetery; his wife was listed as next of kin.
From the Class of 1943 anniversary book "25 years later…":
Pete was born in London, England, March 13, 1922. He was appointed to the Naval Academy from Virginia in June 1939 and reported on 16 June 1939. After graduation he had temporary duty as instructor at the Naval Training School, Harvard University, Cambridge, Massachusetts from June until August 1942, when he was ordered to Service Force, Atlantic Subordinate Command, Naval Operating Base, Norfolk, Virginia, for temporary duty under instruction.

In June 1943, Pete was ordered to the Bethlehem Steel Company, Mariner's Harbor, New York, for duty in connection with fitting out the destroyer USS DALY and served on board her from her commissioning. In February 1944 he was ordered to duty aboard the destroyer HOWORTH.

Pete died on April 6, 1945 in the Asiatic Area as a result of enemy action.

He was entitled to the posthumous award of the Purple Heart Medal, and he was also entitled to the American Defense Service Medal, Fleet Clasp and the Asiatic Pacific Area Campaign Medal. He was survived by his wife Elsie McDowell and their son Peter Clay who lived at 807 Pershing Avenue, Lynchburg, Virginia at Pete's death.

A destroyer, the USS HAMNER (DD-718) has been named in his honor. Elsie served as sponsor when the vessel named in honor of her husband was launched at the Federal Shipbuilding and Dry Dock Company, Newark, New Jersey.
Namesake
In November 1945, the destroyer USS Hamner (DD 718) was named in his honor.
Related Articles
Horace Bayless '45 was also lost in this attack.
Henry is one of 84 members of the Class of 1943 on Virtual Memorial Hall.
The "category" links below lead to lists of related Honorees; use them to explore further the service and sacrifice of the alumni in Memorial Hall.