JACK D. RENFRO, LT, USN
From USNA Virtual Memorial Hall
Lucky Bag
From the 1962 Lucky Bag:
Obituary
From the January 1967 issue of SHIPMATE:
Lt. Jack Dennis Renfro, (SC) USN, died on 7 Nov. in a vehicle accident in Da Nang, South Vietnam, while serving with Mobile Construction Battalion 6.

Lt. Renfro, who was born in Kansas City, MO., served in the U.S. Navy before entering the Naval Academy, from where he was graduated in 1962. He was an expert rifle and pistol shot, was the 1962 captain of the Naval Academy pistol tean, and was a member of the All American Pistol Squad in 1962 and of the All Navy pistol team.

After completing the Naval Supply Corps School at Athens, GA., in 1963, he served in USS Forrestal, then in Headquarters, Fifth Naval District, Norfolk. He became supply officer of MCB-6 in October 1965.

Surviving are his widow, the former Linda Lou Brooks of Norfolk, who is living at 8018 Danbury Drive, Norfolk: his parents, Mr. and Mrs. H. C. Renfro of 6408 W. 81st St., Overland Park, KS. Lt. Renfro is also survived by a daughter, Michelle, who was born subsequent to his death.

Lt. Renfro is buried in Arlington National Cemetery.
Remembrances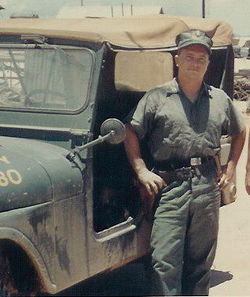 From Wall of Faces:
All your classmates pray for you, your wife and the daughter you never knew, Michelle. STEW LINGLEY, 7/16/06
"Denny" was an only child who left behind a wife, and a daughter he never got to see. His family is proud of him, he will always be a hero to us. KENNETH M. HOYLE, KMHOYLE2@YAHOO.COM, 12/12/04
Related Articles
Charles Lee '62 was also in 12th Company.
Memorials
Jack is among those names on the Vietnam Veterans Memorial in Washington, D.C. As his loss was not due directly to hostile action, though, he does not appear in the Vietnam War section of the killed in action panel in Memorial Hall.
Class of 1962
Jack is one of 30 members of the Class of 1962 on Virtual Memorial Hall.
The "category" links below lead to lists of related Honorees; use them to explore further the service and sacrifice of the alumni in Memorial Hall.