JACK W. ROBBINS, LTCOL, USMCR
From USNA Virtual Memorial Hall
Lucky Bag
From the 1948 Lucky Bag: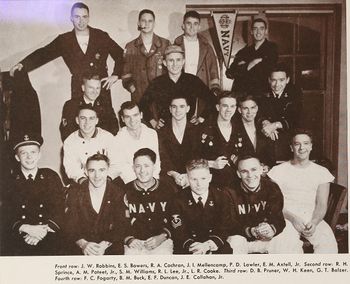 Loss
From the April 1969 issue of Shipmate:
LCol. Jack W. Robbins, USMCR, died 16 Jan. [1969] as the result of a military aircraft crash near Grissom Air Force Base, Indiana. Memorial services were held at the Metropolitan Memorial Methodist Church, Washington, D. C, with interment in National Memorial Park Cemetery, Falls Church, Va.

LCol. Robbins, born in Bemidji, Minn., was graduated from the Naval Academy in 1948 and was commissioned in the Marine Corps. After Marine Corps Basic School, Quantico, Va., he reported to the Marine Corps Recruit Depot at Parris Island, S. C. He had flight training, was attached to VMA 251 at El Toro, Calif., and served with the Fleet Marine Force, Pacific, and Marine Air, Fleet Marine Force, Atlantic. He participated in the Korean war as a pilot.

Following his resignation from the Marine Corps in 1960, he entered the Marine Corps Reserve and joined the George E. Walker Lumber Company of Fairfax, Va. A vice president of the company, LCol. Robbins was on a Marine Corps reserve unit training flight when the crash occurred. A past president of the Rotary Club of Fairfax, he was a member of the Fairfax City Chamber of Commerce and a director of the Potomac Bank and Trust Company of Fairfax.

Survivors include his widow Barbara Ann of 2944 Wilson Ave., Oakton, Va. 22124; three daughters Ann W., Jackie L. and Helen N. of the home address; his parents Mr. and Mrs. Horace M. Robbins of 284 F Avenida Castilli, Laguna Hills, Ca. 92653, and a brother Richard A. Robbins of Tustin, Calif.
Remembrances
From the Class of 1948 column in the April 1969 issue of Shipmate:
I am sad to report the death of Jack ROBBINS at Indianapolis on 16 Jan. in the crash of the Marine reserve aircraft he was piloting. Although he left the Corps in 1960, Jack remained passionately wrapped up in his Marine Reserve Squadron, and flew whenever he could. Jack will always be remembered for his ever-ready smile and warm friendly way. In recent years, he and Barbara Ann were sparkplugs of homecoming, and he will be missed at future class gatherings.
Career
Jack was Commanding Officer of Marine Fighting Squadron 321 (VMF-321) from March 17, 1964 to September 6, 1966.
Other
The ALL HANDS magazine of May 1949 mentions Jack in an article about the All-Navy basketball tournament.
Related Articles
Stanwix Williams '48 and William Keen '48 were also in 14th Company.
Robert Searle '48 was also on the basketball team.
Class of 1948
Jack is one of 48 members of the Class of 1948 on Virtual Memorial Hall.
The "category" links below lead to lists of related Honorees; use them to explore further the service and sacrifice of the alumni in Memorial Hall.