JACK W. ROBBINS, LTCOL, USMCR
From USNA Virtual Memorial Hall
Lucky Bag
From the 1948-B Lucky Bag:
JACK WINDSOR ROBBINS

BEMIDJI, MINNESOTA

What? . . . you've never heard of Bemidji? . . . introducing Jack . . . is the mail out mate? . . . Robbins ... of basketball fame. Robbie eats and sleeps sports . . . basketball is his favorite dish. Extremely clean and neat in habit . . . why doesn't he replace the cap on his toothpaste instead of leaving that item for his wife to attend to? He lettered in golf . . . track . . . baseball . . . basketball . . . football in high school and prep school . . . so name your sport and you will find top-notch competition from him. Robbie is one of the varsity sense of humor squad . . . can even laugh at himself. To be entirely frank Robbie is one of these smooth characters who is never at a loss in any situation. Academics came easy . . . Jack stood high in his class with little effort. Dragging proved to be his best subject . . . how he did excel. During his last years at NA Jack learned to shave . . . there still remains doubt as to the reason why. A natural aptitude for things military . . . his Kempes background got him off to a good start. Rob loved to tackle something new . . . having worked at many varied jobs . . . from Civil Service to bartending. . . had experience to dip into. When things get tough . . . Robbie will come through with a winning basket.
Jack was a four-time varsity letter winner in basketball and also team captain. He graduated from the 8th Company with the class of 1948-B in June 1948. (The top half of the class academically, designated 1948-A, graduated in June 1947 as the last wartime-accelerated class.)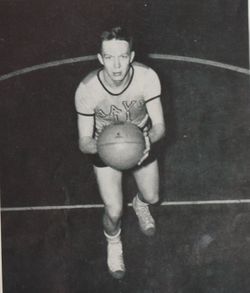 Career
Jack was Commanding Officer of Marine Fighting Squadron 321 (VMF-321) from March 17, 1964 to September 6, 1966.
Life & Loss
Unable to find any information on Jack's life or loss. Class of 1948 Operational Losses lists his date of death as January 19, 1969 in an aircraft accident.
Other
The ALL HANDS magazine of May 1949 mentions Jack in an article about the All-Navy basketball tournament.
Related Articles
Stanwix Williams '48 and William Keen '48 were also in 14th Company.
Robert Searle '48 was also on the basketball team.