JAMES A. HUDSON, LTJG, USN
From USNA Virtual Memorial Hall
Lucky Bag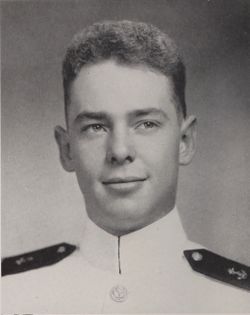 JAMES ALEXANDER HUDSON

Hollywood, California

How Jim was shanghaied, he cannot explain; but, after a spell in the fleet, he came to Navy from that land where life is at its best—so he says. Some say that this curly haired wonder was the easiest man in the company. "I can get that done tomorrow," he said. Sometimes he did; for gymnastics, sailing, golf, tennis, music, color photography, and the Spanish language were close to his heart. Last but not least, academics were fruit. El Hijo had plenty of time to plan that house in Cal with Diver's Cove in the front yard and Yosemite in the back. Here's a friendly, moody, cheerful enthusiast who, when his spirit is aroused, gets what he wants.
Loss
LTJG Hudson was Killed in Action during the Korean War. Hudson graduated from Annapoiis (USNA) in 1950. He was a pilot of an AD-3 Skyraider dive bomber assigned to Attack Squadron 125 (923) aboard the USS Oriskany (CVA-34). While attacking facilities near Hwangsuwon-ni (Somong-ni) N. Korea, Hudson's plane was hit by anti-aircraft fire & crashed. Hudson was killed in the crash, body not recovered. Hudson's name is inscribed on the Courts of the Missing.
Awarded: Distinguished Flying Cross, Air Medal, Purple Heart, Combat Action Ribbon, Korean Service Medal, United Nations Service Medal, National Defense Service Medal, Korean Presidential Unit Citation and the Republic of Korea War Service Medal.
Jim underwent flight training at Pensacola and Corpus Christi. He won his wings flying AD Skyraiders. He was assigned to USS Oriskany and departed from San Diego on a WestPac cruise in September, 1952. Jim was shot down on his 18th mission over North Korea.
Distinguished Flying Cross
(Citation Needed) - SYNOPSIS: Lieutenant, Junior Grade James Alexander Hudson (NSN: 0-532903), United States Navy, was awarded the Distinguished Flying Cross (Posthumously) for extraordinary achievement while participating in aerial flight while serving with Attack Squadron NINE HUNDRED TWENTY-THREE (VA-923), embarked in U.S.S. ORISKANY (CVA-34), in action against enemy aggressor forces in Korea on 22 December 1952.

General Orders: All Hands (January 1954)
Action Date: December 22, 1952
Service: Navy
Rank: Lieutenant Junior Grade
Company: Attack Squadron 923 (VA-923)
Division: U.S.S. Oriskany (CVA-34)
Related Articles