JAMES D. PERKY, CAPT, USAF
From USNA Virtual Memorial Hall
Lucky Bag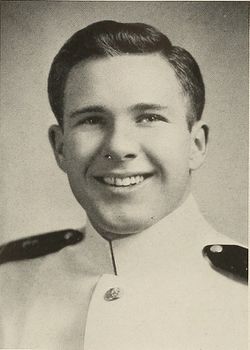 From the 1951 Lucky Bag:
James Dargan Perky

Stillwater, Oklahoma

"Now back home in Oklahoma . . . God's country, that is" . . . "The most beautiful cattle in the world" . . . and "Boy, what a queen she was" are the most often heard exclamations of big "Jim" Perky . . . with the West firmly entrenched as a first love in his bosom, Jim came to us with a good background of a tour in the "gyrene" corps and a year at Oklahoma A. & M. . . . quickly adjusting himself to the Naval Academy sytem, Jim participated in Batt football and lacrosse . . . "Deals" Perky's personality is best epitomized by his friendly smile and vociferous "Hi ya, buddy!" . . . tenacity and a strong, desire to see things done well point Jim out as a bright prospect for the naval service.
He was also a member of the Brigade Staff (winter).
Loss
Jim was lost when the B-47 Stratojet he was aircraft commander of crashed on takeoff from Barksdale AFB, Louisiana on October 11, 1957. Three others aboard were also killed.
He was survived by his parents and is buried in Oklahoma.