JAMES L. FEENEY, LT, USN
From USNA Virtual Memorial Hall
Date of birth: November 22, 1946
Date of death: July 11, 1974
Age: 27
Lucky Bag
From the 1969 Lucky Bag:
Shipmate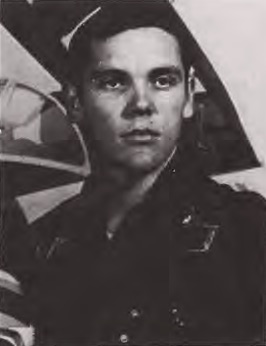 From the November 1974 issue of Shipmate:
Lt. James Leo Feeney, USN, died on 11 July 1974 at sea off the coast of Japan while piloting an A-7 jet aircraft attached to Attack Squadron 93 in USS Midway. In addition to the memorial service conducted in Midway, a memorial mass was held in the Ft. Myer Chapel on 29 July 1974.

A graduate of Salpointe High School at Tucson, Ariz., Lt. Feeney also attended the School of Mines and Technology, Rapid City, S.D., prior to graduating from the Naval Academy with the class of 1969. He received an M.S. degree in aeronautical engineering at the Naval Postgraduate School in 1973, subsequent to designation as a naval aviator in 1971. Prior to assignment to Attack Squadron 93, Lt. Feeney had served in Attack Squadron 125 at Lemoore, Cal.

The Lieutenant James L. Feeney Memorial Fund has been established at Citizens State Bank, Enderlin, ND 58027 for the education of his children.

Lt. Feeney is survived by his widow, Mrs. James L. Feeney, 373 Wye Court, Glen Burnie, MD 21061; by a son, Sean P. and a daughter, Kenna Dorann; by his parents. Col. John W . Feeney, USAF (Ret.) and Mrs. Feeney; a sister, Mrs. Nicholas Grammas; and a brother, Timothy Michael Feeney.
James has a memory marker in Arlington National Cemetery.
Remembrances
From "The Legacy of the Class of 1969":
When Jim introduced Patsy to his family, his sister Terri shouted "She must be Jimmy's true love!" Since "Patsy" was also Jim's mother's nickname, the other nickname for Jim's love became "True." On December 28, 1969, Jim and Patsy were married in the Naval Academy Chapel.

In 1971 Jim earned his naval aviator wings at Kingsville, Texas. He was awarded the Master of Science degree in Aeronautical Engineering at the Naval Postgraduate School in Monterey, California in March 1973.

He was assigned to Attack Squadron 93 (VA-93). Beginning in October 1973, USS Midway (CVA 41) moved its homeport to Naval Base Yokosuka, Japan as a result of a 1972 accord between the United States and Japan.

VA-93 was assigned to Midway, and moved along with the ship. Given the Vietnam War and the need for Far East readiness as budget constraints reduced the number of aircraft carriers in the fleet, the purpose of forward-deploying a carrier and attached air wing to an overseas home port was to increase readiness while improving morale by allowing sailors to live with their families when in port.

Although Midway's new home port was Naval Base Yokosuka, Attack Squadron 93 would normally operate out of Naval Air Facility Atsugi, Japan or Naval Air Facility Misawa, Japan when the carrier was at Yokosuka.

On July 11, 1974 Jim's A-7A Corsair II crashed while returning to the USS Midway from Naval Air Facility Atsugi. Contact with the plane was lost when it was approximately 15 miles from the ship and preparing to land. Midway was operating 75 miles southeast of Yokosuka at the time of the accident. The Navy's search and rescue effort found only a partially inflated life raft, but no other sign of the aircraft. The raft was positively identified as being from Jim's aircraft. On the basis of this information, the Navy declared the Corsair lost at sea.

…

Sean graduated from Syracuse University and is a senior architect for RNL Designs/Stantec in Los Angeles and Portland, Oregon.

Kenna is married with 3 children and owns Precisely Pilates in Stamford, Connecticut.
Related Articles
David Buell '69 was also in 32nd Company and was a swordsman at James' wedding.
James is one of 17 members of the Class of 1969 on Virtual Memorial Hall.
The "category" links below lead to lists of related Honorees; use them to explore further the service and sacrifice of the alumni in Memorial Hall.