JAMES L. ROBERTS, LT, USN
From USNA Virtual Memorial Hall
Lucky Bag
From the 1964 Lucky Bag: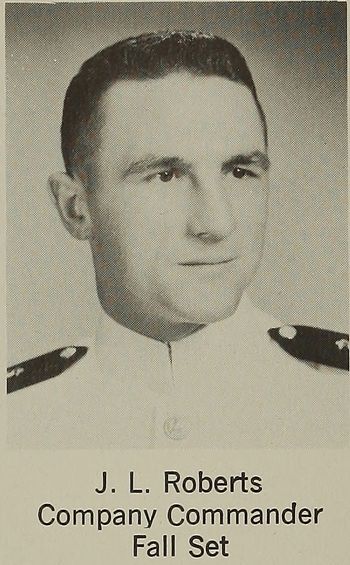 Loss
From the July 1968 issue of Shipmate:
Lt. James L. Roberts, USN, who had been serving as a jet pilot with Fighter Squadron 142, died 27 April in a launching accident from USS CONSTELLATION off the coast of Southern California. The accident occurred during a routine flight and he was unable to eject from the plane due to a mechanical failure. Memorial services were held in the Methodist Church at Red Cloud, Neb., his hometown, on 9 May.

Lt. Roberts, who was a native of Nebraska, attended the University of Nebraska for a year prior to entering the Naval Academy, from where he was graduated in 1964. An honor student, he stood 22nd in a class of over 900. As a midshipman he was Commander of the 17th Company, member of the Fourth Battalion Staff, served on the Brigade honor committee and was a summer exchange officer with the Academy's counterpart in Denmark. Upon graduation he received the Brainerd Award as the man who contributed most to the honor concept of the Academy. In 1963 he was the Nebraska candidate as Rhodes Scholar but lost in close competition.

Following graduation, Lt. Roberts remained at the Academy in the Executive Department, then received basic flight training at Pensacola. He was designated a naval aviator at Corpus Christi, Tex., in June 1966, then received advanced training. He was attached to Fighter Squadron 121, then with VF-142. He had served in Vietnam and had flown over 100 combat missions before returning to the States last December, stationed at San Diego. He had been awarded nine Air Medals, three Navy Commendation Medals, two Navy Achievement Medals and a Navy Unit Commendation as well as the Republic of Vietnam Campaign and Service Medals. He was a member of the Naval Academy Alumni Association and secretary of the class of 1964.

Surviving are his parents, Mr. and Mrs. Ross M. Roberts of Red Cloud, Nb. 68970; a brother Gerald of Valparaiso, Ind.; two sisters, Mrs. Suzanne Beerthuis of Gettysburg, Pa., and Marita of the home; his grandmothers, Mrs. Odessa Roberts of Sioux City, Ia., and Mrs. Susan Kindig of Red Cloud.
James is buried next to his parents in Red Cloud, NE. (This is from an email from a local historian looking for more information.)
Related Articles
John Sweet '64 and Gerald Siebe '64 were also in 17th Company.
Class of 1964
James is one of 25 members of the Class of 1964 on Virtual Memorial Hall.
The "category" links below lead to lists of related Honorees; use them to explore further the service and sacrifice of the alumni in Memorial Hall.