JOHN C. MCCOY, LT, USN
From USNA Virtual Memorial Hall
Lucky Bag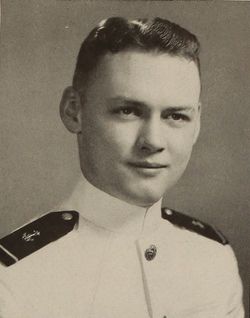 John C. McCoy

PALOUSE, WASHINGTON

J.C. (or Jack, Mac, or Johnnie—he answers to them all) came to Crabtown straight from V-12 at the University of Southern Idaho. Just a little guy when he came here, the pride of Palouse gained fifty pounds during the first two years on the steady hours and good chow, making himself a hard-hitting fullback for the batt football team. Though he worked hard at sports, Jack was never a great athlete, but when he played a game, he played for keeps and to win. Johnnie expects to make the Navy a career, with line duty his preference. Long a strong supporter of the Navy, he has shown this by his avid interest in anything to do with the service. Quiet and efficient, Jack gets along very easily with his fellows and will doubtless make an excellent shipmate.
Loss
Married Velma F. Long in 1949 at Annapolis, Anne Arundel, Maryland, USA.

One of the early jet fighter pilots on aircraft carriers during the Korean War. Was killed when his plane went down during a training mission at night off the USS Saratoga near Florida in 1959.
Distinguished Flying Cross
(Citation Needed) SYNOPSIS: Lieutenant, Junior Grade John C. McCoy, United States Navy, was awarded the Distinguished Flying Cross for extraordinary achievement while participating in aerial flight while serving with Fighter Squadron ONE HUNDRED ELEVEN (VF-111), in action against enemy aggressor forces in Korea on 19 July 1953.

General Orders: All Hands (August 1954)
Action Date: July 19, 1953
Service: Navy
Rank: Lieutenant Junior Grade
Company: Fighter Squadron 111 (VF-111)