JOHN E. COWELL, 1LT, USAF
From USNA Virtual Memorial Hall
Lucky Bag
From the 1955 Lucky Bag: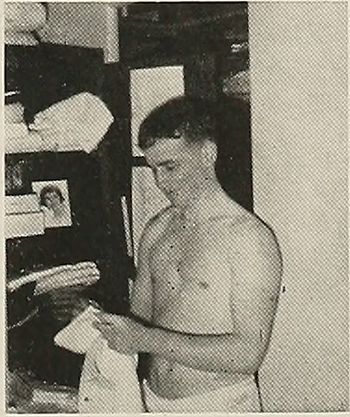 Loss
John was lost in an aircraft accident on December 17, 1957. He was a member of the 353rd Fighter-Day Squadron, based at Myrtle Beach, South Carolina.
Other Information
From researcher Kathy Franz:
He graduated from Northampton High School in 1950 and attended Worcester Polytechnic Institute where he was a member of Sigma Phi Epsilon and played football. He was appointed to the Naval Academy by Congressman John W. Heselton (R-Mass.) out of a group of 33 taking the civil service examination.

His funeral service was held in the Village Congregation Church. Honor guard and active bearers were from the Westover Air Force Base. Burial was in the West Cummington Cemetery.

He is buried in South Carolina, and was survived by his wife, Margaret, two year old daughter, Debora, and eight-month-old son, Bryan. His parents were Stanley and the late Vernice Cowell; four brothers were Robert, Thomas, Raymond and Lorin; two sisters, Judy and Lynn; and maternal grandmother Mrs. Janet Hodkins.
John is one of 34 members of the Class of 1955 on Virtual Memorial Hall.
The "category" links below lead to lists of related Honorees; use them to explore further the service and sacrifice of the alumni in Memorial Hall.