Difference between revisions of "JOHN E. LUDWIG, III"
From USNA Virtual Memorial Hall
m

Line 1:
Line 1:





== Lucky Bag ==

== Lucky Bag ==

From the [https://archive.org/details/luckybag1968unse 1968 Lucky Bag:]

From the [https://archive.org/details/luckybag1968unse 1968 Lucky Bag:]

<blockquote>

<blockquote>

Line 8:
Line 10:

</blockquote>

</blockquote>






[[File:1968 Ludwig LB.jpg|400px]]

[

 

 

 

 

 

 

[:

Ludwig .






== Related Articles ==

== Related Articles ==

Line 15:
Line 37:

[[Category:1968|Ludwig]]

[[Category:1968|Ludwig]]

[[Category:USN|Ludwig]]

[[Category:USN|Ludwig]]
---
Revision as of 13:59, 27 February 2017
Lucky Bag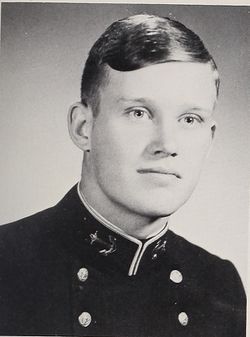 From the 1968 Lucky Bag:
JOHN ELMER LUDWIG, III

A native of Baltimore, Maryland, Jack entered the Naval Academy directly after graduating from Baltimore Polytechnic Institute, where he excelled in wrestling and lacrosse. Jack soon discovered the tremendous challenges presented by the Naval Academy's tough set of regulations and demanding academic course. Since plebe summer, the "Duck" as he is known to his more intimate friends for some unknown reason, has become a master of study time evasive maneuvers. Plebe and varsity lacrosse were Jack's primary athletic interests, however, during his "Senior" year he retired his lacrosse stick so that he might devote his full time to extracurricular sports car racing. All of us will fondly remember the "Duck", for his pleasant, easygoing personality formed many a lasting friendship. His high intellectual capacity (although not reflected to his grades) coupled with a natural leadership ability, and a deep sense of reponsibility will stand Jack in good stead throughout his Naval Career.
Loss
From Together We Served:
Bodies of Three Men Killed in Midair Collision Recovered

Encinitas (AP): The bodies of two pilots and a flight photographer have been recovered from the wreckage of a prototype military helicopter and an Army plane that collided in mid-air over the ocean this weekend.

The two test pilots taken from the Hughes Helicopters YAH-64 Sunday have been identified as John E. Ludwig, 34, of Bonita and James W. Grouix, 37, of Carlsbad.

The body of 56 year old William L. Freeman of San Clemente was also retrieved from the remnants of the Army T-28 from which he was photographing the test flight when the two planes crashed Saturday about three-fourths off a mile of Seacliff Park.
Crash was on November 22, 1980. Unable to find burial site or any other details.
Note
Together We Served and USNA Alumni Association both list him as a LCDR.
In "Rotor Review" (of the Naval Helicopter Association), Summer 2014 edition, Bill is featured in a long story about the development of what would become the LAMPS Mk III helicopter. The editor's note:
Jack Ludwig left the Navy to accept a job as test pilot with Hughes Helicopters. He was promoted to Chief test pilot but was tragically killed in November 1980 during an Apache AH-64 test flight.
Related Articles
David Thompson '68 was also in 18th Company.