JOHN E. LUDWIG, III
From USNA Virtual Memorial Hall
Lucky Bag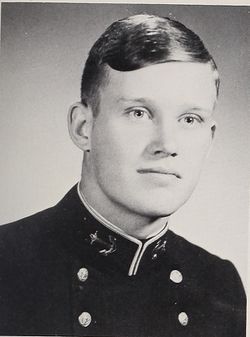 From the 1968 Lucky Bag:
JOHN ELMER LUDWIG, III

A native of Baltimore, Maryland, Jack entered the Naval Academy directly after graduating from Baltimore Polytechnic Institute, where he excelled in wrestling and lacrosse. Jack soon discovered the tremendous challenges presented by the Naval Academy's tough set of regulations and demanding academic course. Since plebe summer, the "Duck" as he is known to his more intimate friends for some unknown reason, has become a master of study time evasive maneuvers. Plebe and varsity lacrosse were Jack's primary athletic interests, however, during his "Senior" year he retired his lacrosse stick so that he might devote his full time to extracurricular sports car racing. All of us will fondly remember the "Duck", for his pleasant, easygoing personality formed many a lasting friendship. His high intellectual capacity (although not reflected to his grades) coupled with a natural leadership ability, and a deep sense of reponsibility will stand Jack in good stead throughout his Naval Career.
Loss
From Together We Served:
Bodies of Three Men Killed in Midair Collision Recovered

Encinitas (AP): The bodies of two pilots and a flight photographer have been recovered from the wreckage of a prototype military helicopter and an Army plane that collided in mid-air over the ocean this weekend.

The two test pilots taken from the Hughes Helicopters YAH-64 Sunday have been identified as John E. Ludwig, 34, of Bonita and James W. Groulx, 37, of Carlsbad.

The body of 56 year old William L. Freeman of San Clemente was also retrieved from the remnants of the Army T-28 from which he was photographing the test flight when the two planes crashed Saturday about three-fourths off a mile off Seacliff Park.
Crash was on November 22, 1980.
Remembrances
From an email:
Although the arc of Jack's life was shortened by tragedy, he filled his life with promise, devotion and dedication, always with a brave heart; as naval aviator, friend, husband and father. To know Jack is to know the creed of an Officer and a Gentleman, and knowing him is to live one's own life enriched and inspired by the deeds of a young man in service to his country and the love of his family. Jack treasured his Irish heritage, gifting him with the wile of a great storyteller, accompanied by the joyful mirth of a captivating spirit. And, he was all American—an unabashed patriot and proud naval officer, yet humble in expression. Knowing him was to learn more of oneself; garnering greater understanding for the awesome responsibility bestowed on those of us fortunate enough to serve our great nation and its people, along with the loyalty and allegiance to one's shipmates. Jack personified the utmost in leadership, reflected daily by all who served with him, especially our great American BlueJackets—they revered him.

Jack died in service to our country. He gave his life testing an attack helicopter—soaring to the edges of the envelope, evaluating mission effectiveness, daring to ensure the safety of a prototype aircraft so that others might fly—in the chaos of combat if necessary—with confidence.

To know William "Jack " Ludwig is know the epitome of a life well-lived. To serve as he did is to know the importance of mission and teamwork; the essence of belonging to a cause bigger than oneself. To join on his wing is to know the joy of flight alongside the tremendous responsibility entrusted to those proudly wearing Wings of Gold. To know Jack Ludwig is a gift of understanding on becoming a better person and a better leader.

Godspeed Jack… Captain Michael Coumatos, USN (ret.)
Jack is featured in a long story by Captain Coumatos in the "Rotor Review" (of the Naval Helicopter Association), Summer 2014 edition.
Other
Jack is mentioned in the book Howard's Whirlybirds: Howard Hughes' Amazing Pioneering Helicopter Exploits by Donald J. Porter.
Note
Though he is referred to as a Hughes employee, Captain Coumatos remembers him being active in the reserves. The other pilot, James W. Groulx USNA '66, is not in Memorial Hall.
Inscription should likely be "USNR." Together We Served and USNA Alumni Association both list him as a LCDR, but he is in Memorial Hall as a CDR.
Related Articles
David Thompson '68 was also in 18th Company.
John likely overlapped with at least one of the men who were lost in Helicopter Attack Squadron (Light) (HA(L)) 3.