JOHN P. HOGAN, LCDR, USN
From USNA Virtual Memorial Hall
Lucky Bag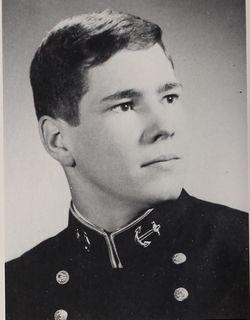 From the 1968 Lucky Bag:
JOHN PATRICK HOGAN

Jack, like most of us, came to the Academy a civilian at heart. Coming directly from Davenport, Iowa, he had a year at St. Ambrose College under his belt along with a spare tire which was a result of that highly cherished year. He adjusted well to his second freshman year here, due greatly to his easy-going likable personality.

His four years on the Severn brought many laughs to all who crossed his path, and many ideas to modernize the "Marble Monastery", most of which never got out of his room. He had a standing feud with the technical aspects of the curriculum, and though it did score a few knockdowns, it never gained a decision. Besides working hard to beef up his QPR, "Hoagie" was an intramural stalwart who hated to lose, as evidenced by his hard-hitting heavy weight football career.

Jack looks with great anticipation and relief to graduation, after which Navy air will occupy his time. He is sure to brighten many more lives as he has brightened ours on many occasions.
Loss
From VHPA:
Washington Post, May 21, 1979

LONDONDERRY, N.H., May 20 (AP)--A U.S. Navy helicopter crashed "in a ball of fire" today and killed all five crew members aboard, authorities said.

Master Sgt. James Duncan of Pease Air Force in Newington said there were no survivors.

Duncan said the craft took off Sunday morning from Norfolk Naval Air Station en route to Brunswick Naval Air Station in Maine.

The dead, all Navy personnel living in the Norfolk area were Lt. Cmdr. Lynwood H. Duncan, 34, originally of Greensboro, N.C.; Lt. Cmdr. James P. Hogan, 34, of Davenport, Iowa; Lt. Paul Melotte, 31, of Funkstown, Md; Petty Officer Second Class Michael J. Kennedy, 25, of Warminster, Pa., and Airman Apprentice Paul J. Dellas, 21, of San Jose, Calif.

The Navy H2 helicopter went down in a field near a sparsely populated residential area in the northern part of this community of about 12,000 south of Manchester.

The Londonderry fire dispatcher said the craft was "a ball of fire" after it hit the ground, but it did not endanger any homes in the area.
Note mis-identification of Jack as "James" in the article; believe this is a simple mistake.
Related Articles
Theodore Vivilacqua '68 and Thomas West '68 were also in 13th Company.
Jack likely overlapped with at least one of the men who served in Helicopter Attack Squadron (Light) (HA(L)) 3.