JOHN P. MACSWAIN, LT, USN
From USNA Virtual Memorial Hall
Lucky Bag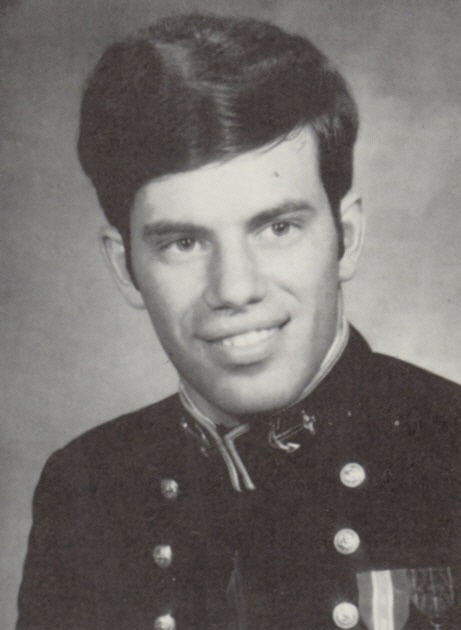 Loss
John died on February 23, 1979 of "injuries received December 26 in a shipboard accident" on USS Inchon (LPH 12), inport Portsmouth, Virginia.
From Wausau (Wisconsin) Daily Herald:
Lt. MacSwain was born March 3, 1952, in Merrill, son of Robert and Geraldine MacSwain, Merrill Route 2. He was married Oct. 27, 1977, in Honolulu, Hawaii, to Sandra Roble, who survives. He was a 1970 graduate of Merrill High School and a member of the state championship wrestling team that year, and was graduated from the U.S. Naval Academy in 1974. A member of the U.S. Navy, he was serving as an engineering officer aboard the USS Inchon. He was a member of the Naval Academy Alumni Association and St. Robert Bellarmine Catholic Church in Merrill. Surviving besides his wife, Sandra, and parents, Mr. and Mrs. Robert MacSwain, are four brothers, Steven, Black River Falls, Rob, University of Wisconsin - River Falls, and Donald and James, both at home; and a sister, Mary Jo MacSwain, Evanston, Ill.
John is buried in Wisconsin.
The Register of Alumni has no date of death, but lists him as deceased and also LT, Retired.
Memorial Hall Error
John is not listed with his classmates. He was identified by reviewing Shipmate magazine issues; his date of death and "Portsmouth VA" is given in the May 1979 issue.
Class of 1974
John is one of 8 members of the Class of 1974 on Virtual Memorial Hall.
The "category" links below lead to lists of related Honorees; use them to explore further the service and sacrifice of alumni in Memorial Hall.